Boots recalls cough and cold medicines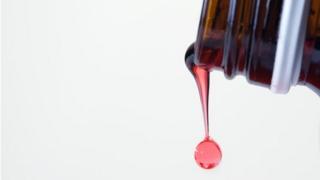 Pharmacy giant Boots is recalling tens of thousands of bottles of cough and cold medicines over fears that plastic might have got into the liquid.
As a precautionary measure Boots is asking UK shoppers to return any of five of its branded medicines that were purchased since September.
This includes a strawberry flavoured suspension of oral ibuprofen for infants older than three months.
People with questions can telephone the Boots Customer Care on 0800 915 0004.
The medicines being recalled are:
Boots Pharmaceuticals Chesty Cough Relief 100mg/5ml Oral Solution
Boots Pharmaceuticals Dry Cough Relief Oral Solution
Boots Pharmaceuticals Mucus Cough Relief 100mg/5ml Oral Solution
Boots Pharmaceuticals Paracetamol 6 years Plus 250mg/5ml Oral Solution 200ml
Boots Pharmaceuticals Ibuprofen 3 Months plus 100mg/5ml Oral suspension Strawberry flavour
Customers will be offered a refund.
Although there have been no reported incidents as yet, a possible fault in the manufacturing process of the tamper seal may have resulted in small pieces of plastic being found in the liquid medicines, says Boots.
The Medicines and Healthcare products Regulatory Agency said people should check their medicine cupboards at home for these products.
In a statement, Boots said: "The health and safety of our customers and patients is always our highest priority so as a precaution we are recalling some Boots Pharmaceuticals medicine lines.
"Whilst we're not currently aware of any customer incidences, we have taken the decision to ask customers to return these products to our stores for a refund. We're sorry for any inconvenience this may cause our customers and would like to offer our reassurances that these actions are taken as a precaution, while we fully investigate the situation."