Under-age drinking crackdown called for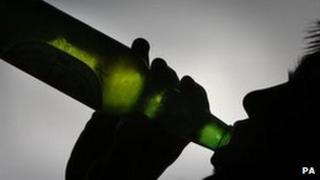 The government should introduce tougher punishments for parents, siblings and friends who buy alcohol for children, left-wing think tank Demos has urged.
It says offenders should do community service or be banned from shops.
Over a four-year period, just 16 people were convicted in the UK of buying alcohol for a child, it added.
The Institute of Alcohol Studies said tackling irresponsible shop promotions and minimum pricing would better tackle the UK's drinking problem.
The official advice from the chief medical officers across the UK is that no children should be given alcohol until they are 16.
They say alcohol should be given to older teenagers only under supervision of a carer or parent and never on more than one day a week.
'Proxy purchasers'
Demos said evidence showed young people were significantly more likely to get alcohol from relatives and older friends than from a shop.
On-the-spot fines of £90 can be issued for people who help children buy alcohol, while those convicted of the crime can be fined up to £5,000, according to Demos.
Its Sobering Up report says police should do more to enforce on-the-spot fines and prosecute adults.
Those caught breaking the law in this way should be "named and shamed" on posters by shop counters, it added.
The report said it was "extremely difficult for local shops to identify and act against proxy purchasers".
Report author Jonathan Birdwell said "under-age drunkenness increases alcohol risks in later life".
"Our research suggests tackling certain high-strength drinks, or just test-purchasing shops, is not sufficient - we need a tougher, smarter approach," he added.
"This includes threatening parents who buy alcohol for their children to drink unsupervised with 'social shaming' like community service."
Demos is also recommending "booze borders" where police refuse very drunk people entry into city centres in areas with high levels of alcohol-related crime or health problems.
Minimum pricing
Alcohol education charity Drinkaware "warmly welcomed" the report, saying it supported parents "in their position as positive role models when it comes to alcohol".
"We know from our own research that parents frequently provide alcohol to older children, in a belief that introducing alcohol in the home is a good way to teach young people about responsible drinking," chief executive Elaine Hindal said.
"In fact, contrary to popular belief, evidence shows that young people who start drinking at an early age drink more and more frequently than those who delay their first alcoholic drink."
But Katherine Brown, from the Institute of Alcohol Studies charity, said measures such as community service and naming and shaming were not the answer.
"The real way to tackle to the problem of drinking in the UK is to address the bigger issues, such as pricing, through policies such as minimum unit pricing," she added.