Electronic prescribing 'patchy' in NHS hospitals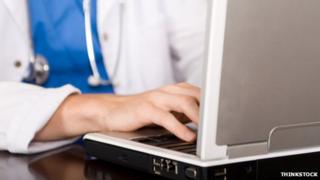 There is wide variation in electronic prescribing in NHS hospitals, putting patient safety at risk through medication errors, research suggests.
A survey of 101 hospitals in England indicated 69% used some form of electronic prescribing, but there was wide variation in the systems used.
Only one of the hospitals used a single system in all of its clinical areas, a University College London team said.
The Department of Health has promised to spend £1bn to replace paper systems.
The study is published in the journal Plos One.
Lead researcher Prof Bryony Franklin, of the University College London School of Pharmacy, said within the UK, most GP prescribing was now done by computer, but prescribing for hospital inpatients generally still required pen and paper, in contrast to many other developed countries.
"The level of variation in the use of electronic prescribing between hospital departments, and the diversity of the systems in place, presents a potential threat to patient safety in the form of medication errors," she said.
"We have demonstrated huge variation in the extent to which electronic prescribing is being used in NHS hospitals, and how it is being used.
"Innovative solutions are now needed, making full use of the government funding available, to manage this diversity and facilitate development of safe, comprehensive, hospital-wide systems in a cost-effective way."
A Department of Health official said: "Earlier this year we announced £1bn in funding will become available to replace outdated paper-based systems for patient notes and expand electronic prescribing.
"This kind of technology can help reduce prescribing errors, enable more efficient administration of medicines and free up staff time to spend with patients - not paperwork."