Better than a spoonful of sugar: How to swallow pills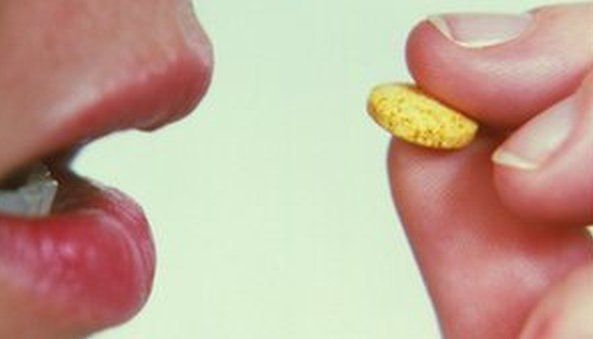 Children are apt to swallow anything from buttons to toy parts or coins when they're young.
But try and get them to swallow a tiny pill and it can often end in tears and frustration.
So how do you get a young sick child to take tablets?
Parents like Diane Loban know only too well the kind of struggle children put up when faced with taking medicines.
"When they're poorly, just getting liquid medicine into my boys can be a trial. They would cry and be miserable when it came to antibiotics, particularly the 'banana' flavoured ones.
"Now they're nine and 12, they still aren't interested in getting the hang of swallowing non-chewable tablets."
A recent study from the Netherlands which was published in the Archives of Disease in Childhood suggests that all of the tricks tried by parents and doctors over the years to get medicine into their children - such as grinding up a pill into jam, squirting a plastic syringe-full of medicine into the mouth or simply bribing a child to swallow medicines - are not necessary.
It analysed the acceptability of placebo, or dummy, medicines in various formulations: pills; syrup; suspension; or powder.
Parents were asked to give their children - who were all aged between 1 and 4 years - a pill or spoonful of medicine at home.
Nearly all of the children who took part in the study - 98% of them - were able to swallow the tablets successfully.
But how surprising is this? After all, unless there is a physical problem, we all manage to swallow food and drink effortlessly.
Dr Diana Van Reit-Nales from the the Medicine Evaluation Board in the Netherlands carried out the research.
She believes that the ability to swallow tablets is an important skill to learn - so that they don't have to always opt for liquid medicines.
"There are so many problems reported by parents and also in the scientific literature related to liquid dosage forms.
"We know that taste may be a problem for the child, sometimes the active substance is not so stable in liquid formulation and as a consequence the liquid medicine has to be stored in a refrigerator.
"Also there is a global problem with storing and transporting liquid medicines."
But liquid medicines do serve an important role.
Stephen Tomlin is a consultant pharmacist for children's services at the Evelina Children's Hospital in London. "Tablets don't always come in the right dose which we want," he says.
"Adults are more-or-less the same size. But children vary a lot and the drug companies can't produce a tablet for every size."
Mr Tomlin says that a difficulty swallowing tablets usually has no physical cause. "It's nothing to do with the swallow reflex. After all, it's not uncommon for a two-year-old to swallow a button!"
Dr Van Reit-Nales wasn't surprised by the result.
"In the Netherlands there is a wide historic tradition of giving food supplements as small-sized tablets, either fluoride for caries prevention or Vitamin A/D tablets.
"So most of the parents see these small-sized tablets as something common they have already in their house."
So what about in other countries, where children taking pills is less common?
Psychologist Dr Katherine Dahlsgaard believes some simple steps could persuade any reluctant patients.
"I've seen the heroic lengths that parents go to, to get their kids to take pills - and that look of betrayal on a child's face when they manage to squirt some nasty-tasting medicine into their mouth."
At her clinic in the Philadelphia Children's Hospital, she uses cognitive behavioural therapy to help children with anxiety disorders and other problems.
She sometimes gets emergency calls when a child who needs to change medication quickly simply can't swallow the pills. Her solution is simple but ingenious.
"I use a technique called 'shaping' - where you practise swallowing with tiny pieces of candy - like the sprinkles or "jimmies" you get on ice cream or cupcakes.
"Mostly they don't even taste them as they put them at the back of the tongue. And then we gradually move up to bigger candy sizes."
Dr Dahlsgaard likes her patients to build up their confidence - by scoring five "successful swallows" with each size before moving on. And then she sets them homework.
"Children always behave their best in my office, to please the doctor. I'm very sensitive to this - that they do things in my office that they won't do at home. They work on whatever skill they've learned that day."
If they regress - they move back down a size of sweet. Dr Dahlsgaard says this intervention normally works in just a single one-hour session.
The child is encouraged to move their head - left, right, up or down - until they find the position which works best for them to swallow.
The theory is that turning the head 45 degrees to the side results in small increases in the diameter of the oesophagus - and slight delay in its closure as we swallow, making it easier.
One new development which is emerging is the "mini-tablet" - 2, 3 or 4mm tablets specially formulated for children. But they are still a work in progress, according to Mr Tomlin.
"Creating tablets for children is a fairly limited market and they're still very expensive. I can think of one mini-tablet - hydroxycarbamide, for sickle cell disease, but it is expensive."
This is the first time that the acceptability of pill-taking in young children has been studied at home. In the past, similar experiments have been carried out on children in hospital.
It may be that children - and parents - are more relaxed at home, especially as the children in the experiment were not ill at the time.
Dr Van Reit-Nales hopes that this will help all parents to realise that it's possible for under-5s to swallow tablets successfully.
"What we know from reports by parents is that a lot of children like taking small tablets and they do it by themselves. And it avoids some of the parents' distress of administering a liquid with a spoon or an oral syringe."
Mr Tomlin believes it doesn't matter what age the child is. "At least give them the option - let them choose: liquid or tablet. Many of the liquids like antibiotics taste horrible but the tablets have no taste at all."
Related Internet Links
The BBC is not responsible for the content of external sites.