Hospital self-harm care 'lacking'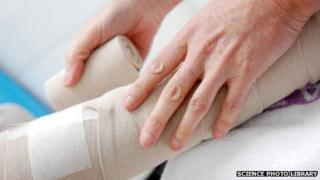 Many hospitals in England are failing to provide adequate care for people who have self-harmed, despite a national drive to improve services, say researchers.
The snapshot analysis of 32 hospitals over a three-month period found marked variability in the care provided.
More than two-thirds of self-harm patients did not get a specialist psychological assessment.
Performance had improved little compared with nearly a decade before.
Prof Nav Kapur is senior author of the study published in BMJ Open and chairman of the recent National Institute for Health and Care Excellence (NICE) guidelines on treating self-harm.
He said: "We were surprised to find that despite national guidelines and policy initiatives, the management of self-harm in English hospitals is as variable as ever.
"This is important because the treatment patients get in hospital affects their outcome."
Static
The researchers looked at how 7,689 episodes of self-harm were handled by 32 English hospitals between 2010 and 2011.
Hospitals varied markedly in their management of self-harm. The proportion of episodes that received a psychosocial assessment in line with national guidance varied from 22% in some hospitals to 88% in others.
Overall, the level of assessment had remained more or less static over the last 10 years, a comparison with an earlier audit at 31 of the same hospitals revealed.
Prof Kapur said: "It remains to be seen how the more recent guidance and the linked quality standards for self-harm services will impact on care. Hopefully, people who self-harm will increasingly get the assessment and treatment they need."
An estimated one in 12 young people in the UK are believed to have self-harmed at some point in their lives.
Self-harm includes self-injury (skin cutting, burning, hair pulling) and self-poisoning (ingesting toxic substances).
'No excuse'
Vicki Nash, head of policy and campaigns at the mental health charity Mind, said: "When someone has been hospitalised as a result of harming themselves, they are in crisis, and need urgent help and support.
"This research is consistent with our own findings that, while excellent crisis care does exist in some parts of the country, too many people don't get the help they need when they are at their most unwell.
"It is not acceptable that, despite clear guidance, the quality of service you receive still depends on where you live."
A spokesman for the NHS Confederation's Mental Health Network said there was no excuse for inaction.
"Variability is sadly very real in our NHS. The reasons for this are complex as are the solutions, but that doesn't mean it is acceptable."