Thousands of children 'driven in smoky cars'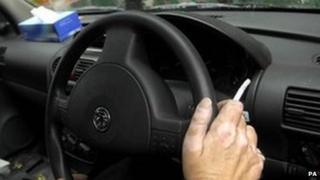 More than 430,000 children aged 11-15 in England are exposed to second-hand smoke in their family cars at least once a week, says a charity.
The estimate, from the British Lung Foundation, comes as the House of Lords prepares to debate a ban on smoking in cars where children are present.
Smokers' lobby group Forest says the data is misleading and a ban "disproportionate to the problem".
The figures are extrapolated from a poll of 7,500 secondary school pupils.
Of these, 6% said they were exposed to smoke in their family car every day or most days. An additional 8% said they were exposed to it once or twice a week.
Statistics are unavailable for children younger than 11.
BLF director of research Dr Noel Snell said a case for a ban was indisputable.
"Adults are protected from second-hand smoke in public places and in work vehicles. This amendment is fundamental to child protection and must be passed in the Lords if we are to help shape a healthy future for this generation of children," he said.
Simon Clark, director of Forest, said: "According to surveys, only a very small number of adults still smoke in cars with children present. It's inconsiderate and most adults recognise that.
"Legislation is disproportionate to the problem. It would be very difficult to enforce and would be a huge waste of police resources.
"Education has to be better than coercion."