How the work of family doctors has changed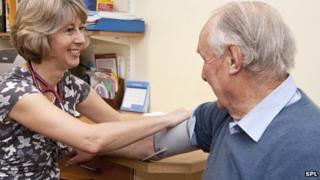 The rules that govern how GPs work have been amended yet again after negotiations between doctors' leaders and the government.
What changes have family doctors seen over the past 20 years - and how do they think patients have been affected?
Dr Rob Barnett is a GP in south Liverpool. He is one of five partners in his practice and the only male GP.
"My work has changed dramatically since I started as a GP in 1987.
I used to practise from a mid-terrace house. I did a morning, afternoon and evening surgery, was on call two nights a week and occasionally did weekends too.
Now I work in purpose-built premises. I don't do out-of-hours work any more but my surgeries are longer and we are open all day from 8am till 6.30pm. I try to finish my paperwork by 12.30, then do home visits and then more paperwork before the afternoon surgery, which starts at 3.15 and usually doesn't finish before 6.30 or 7pm.
In some respects, the changes have been for the good.
There is much more job satisfaction now. We are working longer hours but not working impossible hours.
When I started, GPs didn't take responsibility for the all-round care of patients. Now I see my role as close to that of the general consultant physician, dealing with more and more complex patients, with multiple problems.
Going back to the Eighties, much of that care was done in secondary care, in hospitals. But patients are in hospital much less often now and we are expected to pick up the pieces when they come out of hospital.
In my practice, no one works full-time. Everyone does five or six surgeries a week, rather than eight. We can maintain our sanity that way.
Another major change is that we don't do out-of-hours care any more. That was the right thing to do, for the vast majority of GPs, but the way out-of-hours care was subsequently organised wasn't good.
If I'm honest, the goodwill went out of the system in the Nineties. Our work became target-driven and we were being measured on doing things which some bureaucrat thought was important, but GPs didn't. Some of the questions I had to ask patients were just stupid.
Patients' attitudes have changed too. They tend to come in now with their own idea of what's wrong with them and because they know more about what's available, they expect more now.
But at the same time, patients are also taking less responsibility for their own care. They want prescriptions, even for tablets that can be bought in a chemist, and I've known people to go to walk-in centres then come and see me just to check they are getting the right treatment.
Overall, I think GPs are paid well for what they do. It's a responsible and difficult job and we were underpaid in the Eighties and Nineties.
The pressure and demands on GPs are greater now. The number of decisions we make every hour is quite phenomenal."
Dr Laurence Buckman is a full-time GP in Barnet, north London. He works on his own.
"As a single-handed GP, the main issue for me is the bureaucracy. We've got to get rid of it.
Meaningless paperwork has been introduced over the years and it is such a waste of time. I have to ask patients impertinent questions and it doesn't play well.
None of the targets that were introduced were good. Getting rid of all that would be welcome.
Over the years, technology has made GPs' jobs easier - but the issue of access to medical records is risky. What happens if that information is passed onto other people like employers or insurers? That's a concern.
Getting your prescriptions online is a great idea. Booking appointments online is great too if you are internet-savvy, but not so good for elderly people who don't have PCs, and we need to cater for them too.
I am the named doctor for all my patients. I have always been responsible for them because I work on my own, so the latest changes don't affect me.
My patients can contact me round the clock and get hold of me whenever they like. There's about a week's waiting time for a non-urgent appointment.
The government is always talking about a crisis in A&E caused by waiting times at doctors' surgeries, but the only way to keep people out of hospitals is to lie down across the door of A&Es.
People regularly go to A&E because they don't try to see their GP first. We need to be more blunt about telling people who go to A&E that they don't need to be there.
And we don't emphasise enough how patients can help themselves before running to us.
But, in the end, the GP is the ultimate backstop for everyone. What we need is better social care alongside GPs to help care for people in the community."
Dr Buckman is former chairman of the British Medical Association's GP committee.
Dr Dean Marshall is a GP in Dalkeith, Midlothian. He helped negotiate the contract changes for GPs on behalf of the BMA.
"I started as a GP in 1994 and I've seen lots of changes in that time.
I work fewer hours than before, when I worked weekends and nights too, but that wasn't sustainable. Being a full-time GP still isn't good for general health.
Instead, the work is now incredibly intense and we're looking after a different kind of patient, who was previously looked after in hospital. For example, we care for patients with diabetes and other chronic disease, although nurses help with much of this work too.
It is normal to see one complicated patient after another now.
The way GPs have been micromanaged over in recent years isn't good. I want to be allowed to structure my practice the way I want to rather than justifying my time to someone else.
That has created a huge morale problem among GPs. Most still enjoy the job but they feel they are doing a job someone else is telling them to do.
Patients aren't one homogenous group. They're a variety of groups and it's impossible to design a service that is everything to everyone.
Some people want a named doctor and value seeing the "family doctor", but others want instant access and they don't care which doctor they see.
Patients getting appointments when they want is a huge issue. There is a large proportion of the population that doesn't have regular contact with their GP and, when they do call up, they find they can't get an appointment.
But the public has to realise it's difficult. I have never had a free appointment in 20 years as a GP."