Northern Ireland carers' charity Cause publishes manifesto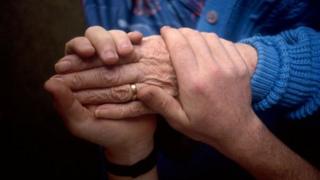 More support is needed for carers who look after people with serious mental illnesses in Northern Ireland.
That is the message of a manifesto from the charity, Cause, that was set up to help carers and their families.
It is due to be launched at Stormont on Tuesday. Cause said it hoped the document would give carers one single voice for the first time.
Maire Grattan said there was a growing concern that pressures on carers are set to increase.
"Serious mental illness can result in significant life changes for everyone close to it," she said.
"If the care we provide as families, partners and friends is to be recognised, valued and supported under Transforming Your Care (review of health and social care), then we need to see carers taken seriously, listened to and given a variety of support.
"Unless you go through the experience of dealing with a family member who has a mental illness, you can never really understand the full impact.
"The manifesto highlights carers' strong assertion that they need to be more involved in care planning as they provide a valuable perspective which can really help to support recovery, working with professionals and their loved one."