Women 'more prone to breathlessness'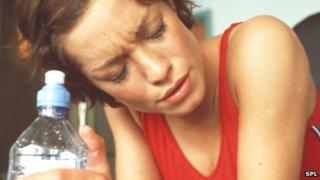 Women's lung muscles have to work harder than men's, making breathlessness more common after exercise, say scientists in Canada.
Their study in the journal Experimental Physiology examined the activity of the diaphragm - the muscle that drives lung function.
It had to work harder in women to compensate for smaller lungs, the research showed.
The research was conducted at McGill University.
Even with a man and a woman of equal size, the woman's lungs are smaller and their airways narrower.
Breathlessness can occur after tough physical exercise or be a symptom of some illnesses such as bronchitis.
"In both health and diseases, women are more likely to show signs of breathlessness after physical activity than men," said lead researcher Dr Dennis Jensen.
The study compared 25 men and 25 women between the ages of 20 and 40, exercising on a bicycle.
How deep and how fast they breathed at different levels of exercise were recorded. They also recorded the "drive to breathe", the electrical signals sent to the diaphragm to control its movement.
Dr Jensen told the BBC: "Women have biologically smaller lungs and they have to activate respiratory muscles more to move a given amount of air."
He said it was an "important insight into why women with emphysema and heart failure have worse breathing symptoms than men".
Further studies will investigate the impact of obesity on breathlessness.