Jamie Oliver honoured by GPs for his obesity work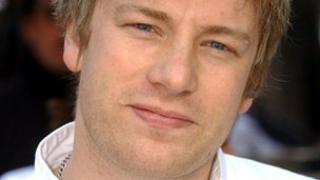 TV chef Jamie Oliver has been honoured by GPs for his work in tackling childhood obesity.
The Royal College of General Practitioners praised the 38-year-old who can now use the letters FRCGP (Hon) after his name.
Oliver, who started his own campaign to make school dinners healthier, said he was "humbled" to receive the award.
The chef, who already has an MBE, also championed a movement to get more people cooking wholesome meals.
There are now seven Ministry of Food centres around Britain where people can learn how to make nutritious meals on a budget and are encouraged to pass on the skills.
RCGP chairwoman Clare Gerada said the star was deserving of his award - the highest honour the college can bestow.
Accepting the award, Oliver said doctors could help tackle the long-term, obesity-related issues which might not be resolved by politicians during their short electoral terms.
"Governments, as wonderful or awful as they might individually be in their randomly changing roles, they are like ships that pass in the night," he said.
"Sometimes if they get great they often move on and someone on their maiden voyage has to learn and pick it up from scratch again.
"So actually GPs, chefs, the people that work in public health - they're the people that spend decades doing it. Hopefully between us all we can make a difference.
"To make real change you need to be able to think 10 to 15 years in advance, not three.
"I'm not a political expert but all I would say is that change requires that long-termism. When it comes to things like school food and school food education I don't think it should be political, it should be standard."
Oliver grew up surrounded by good food: his parents ran the Cricketers pub in Essex and, from the age of eight, he started cooking and helping the chefs there, and learning to appreciate quality ingredients along the way.
After an undistinguished school career, he decided he wanted to cook for a living and studied catering at Westminster Kingsway College in London.
During his apprenticeship, Oliver worked with some of the best chefs in London.
He then moved into TV, hosting the first of many cookery shows - The Naked Chef.