Will it be a bleak winter for the NHS?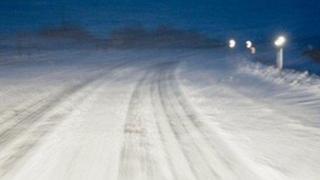 The NHS knows it's coming, but the big question is whether it can do anything about it.
Winter is traditionally the toughest time for the health service, particularly for A&E departments.
Waiting times are often at their highest as hospitals struggle to cope with the rising number of patients coming through their doors with injury and illness.
And it looks like this year will be the worst one for a long time.
Last winter the NHS in England missed it's waiting time target from January to March as waits hit their longest for nearly a decade.
Any hopes that this was a one-off blip have already been dismissed. The summer was the worst on record for many years.
The major A&Es - known as type one - missed their four-hour waiting time target during the spring and summer.
It prompted Labour to accused the government of overseeing the "first summer A&E crisis in living memory".
'Huge pressure'
Doctors are worried too. Bernadette Garrihy, of the College of Emergency Medicine, told BBC Radio 4's Today programme on Tuesday that staff were preparing for "what may be our worst winter yet".
"We have got severe weather problems on the way, increased incidence of respiratory tract infections - things like winter vomiting bugs - we know that this puts our departments under huge pressure."
But NHS England's medical director Prof Sir Bruce Keogh says plans are in place to help relieve the pressure.
The government made an extra £250m available in the summer to help this winter. Another £250m will follow in a year's time.
This is going direct to the worst-hit A&Es as well as surrounding community services, such as getting pharmacies to open longer.
The idea is to give patients with less serious conditions more options other than A&E.
Sir Bruce believes the early planning this year will help "decongest" some of the pressure points.
But it is clear the problems are much more deep-routed than that.
A quarter of visits to A&E lead to an emergency admission, suggesting many patients do in fact have a serious health issue that needs treating and, therefore, cannot be diverted to other parts of the health service.
These have been rising since the late 1990s. A National Audit Office report published last week showed rates had risen by 47% in the past 15 years.
Of these, a fifth are estimated to be avoidable - that is to say if the patient received better care in the first place the emergency would not have materialised.
The frail elderly are the major cause of these admissions, presenting with problems such as urinary tract infections and pneumonia.
This shows if better support was available in the community there could be a significant reduction in demands on A&E.
However, tackling this requires long-term solutions - something NHS England has already recognised as it has set up a review of the whole system.
The plans for the future are to be unveiled later this month, but it will be several years before they have an impact.
For the time being, those on the front-line in the NHS are bracing themselves for the a long, hard slog in the coming months.