IVF success affected by ethnicity, study suggests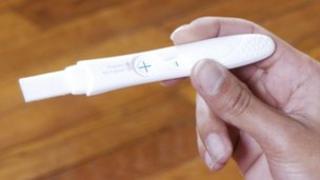 Asian and black women who have IVF are less likely to become pregnant than white women using similar fertility treatment, UK research suggests.
The Nottingham University team say they are unsure why this is, but say it could be down to genetics as well as social and environmental factors.
They looked at IVF success rates for 1,517 women treated in their clinic.
Live birth rates for ethnic minority women were significantly lower, the study published in BJOG found.
Overall, 35% of ethnic minority women successfully conceived and gave birth after IVF compared with 44% of white women treated at the clinic between 2006 and 2011.
This was despite all the women appearing to have favourable chances of having a baby, based on factors such as the quality of their egg reserves.
The birth rate also differed between three ethnic sub-groups - 21.4% for Middle East Asian women, 23.3% for African-Caribbean women and 38% for South East Asian women - although this finding was not statistically significant.
Lead researcher Dr Walid Maalouf said the reasons behind the findings were unclear.
"Further research into genetic background as a potential determinant of IVF outcome, as well as the influencing effects of lifestyle and cultural factors on reproductive outcomes is needed," he said.
The researchers say their findings could be used to help counsel couples about their realistic probabilities of success with IVF.
Women from ethnic backgrounds might be encouraged to seek treatment earlier to improve their odds of having a baby, for example, said John Thorp, BJOG deputy editor in chief.
The outgoing head of the UK's fertility watchdog has also called for greater clarity over the relative pros and cons of IVF.
Prof Lisa Jardine said success rates were "discouragingly low" and that those providing the treatment "traded in hope".
Two thirds of couples will not conceive after a cycle of IVF.