Computer software helps GPs spot cancer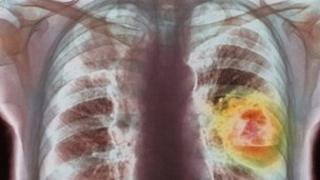 A computer program could help busy GPs spot patients who might have cancer, say UK experts.
It estimates the risk of five types of cancer, including hard-to-detect conditions such as ovarian and pancreatic cancer, based on symptoms.
If cancer is a possible diagnosis, it alerts the GP and suggests more tests.
Practices in England and Wales have been testing the software in a pilot scheme which is partly funded by the Department of Health.
Macmillan Cancer Support, the charity behind the work, hopes the electronic Cancer Decision Support programme could be rolled out to surgeries across the UK from next year.
Dr Rosie Loftus, lead GP adviser at Macmillan Cancer Support, said: "GPs have a vital role to play in ensuring that cancer is diagnosed at an early stage to give people the best possible chance of survival.
Early referral
"When you've only got around 10 minutes with each patient, it's vital that you ask the right questions and are able to quickly calculate someone's risk in order to facilitate an early referral."
The program can estimate cancer risk for oesophago-gastric, lung, colorectal, pancreatic and ovarian cancers and alerts GPs to cancer risk as soon as a patient tells them about a symptom.
For instance, if a patient visits their GP complaining of nausea and returns three weeks later with difficulty swallowing, the program detects that the patient could be at risk of oesophageal cancer.
Prof Willie Hamilton, a GP researcher based at the University of Exeter, and one of those upon whose work the tool is based, said: "Despite the fact that more than one in three of us will be diagnosed with cancer in our lifetime, cancer cases are still relatively unusual occurrences for GPs to encounter during their day-to-day practice.
"We've designed a system that doesn't replace their knowledge or training, but could be used alongside their notes to give extra information."