Health professionals must screen for genital mutilation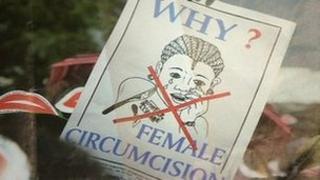 Nurses, midwives and GPs in the UK must be much more aware of female genital mutilation (FGM) and treat it as child abuse, says a report.
The recommendation is among nine in a document produced by several royal colleges and health visitors' representatives.
It also says female patients who have had their sexual organs cut should be referred to police and other services.
The government said that the practice was "abhorrent".
Genital mutilation is thought to have affected at least 66,000 women in the UK - but this is a conservative estimate.
A helpline set up by the NSPCC this year received more than 100 inquiries in its first three months, resulting in 38 referrals to the police.
The practice is illegal, but so far no criminal cases have been brought - though the former Director of Public Prosecutions, Keir Starmer QC, says in a foreword to the report that "it is only a matter of time before this happens".
Protect girls
The joint guidelines, produced by the Royal Colleges of Midwives, Nursing and Obstetricians and Gynaecologists, say health professionals should identify girls at risk of FGM as early as possible.
The report reminds healthcare staff they have a legal duty to protect girls from cutting. It is thought some NHS professionals have sometimes been concerned they risk offending or stigmatising people in ethnic minority communities.
And it suggests a publicity campaign to raise awareness, similar to previous campaigns about HIV and domestic violence.
The report says: "Other child protection systems in the EU, such as France, have responded with systematic screening of girls under six years of age, through annual physical examinations.
"Although the UK may not want to take this position, as it is viewed as too intrusive, it is important to underline the principle that in specific situations where there is a suspicion that girls have undergone FGM, it should not be seen as abusive to undertake such examinations.
"Every woman from a practising community who books for maternity care should be asked in a sensitive manner about FGM, and the discussion recorded.
"Girls born to mothers who have had FGM should be considered at risk of significant harm. They require monitoring through the child protection system."
School curriculum
The report quotes the example of a service in Waltham Forest, east London, which has since closed down, in which social workers made a home visit to such families to tell them about the law on mutilation.
The group found there were gaps in the responsiveness of the health and social care system in addressing FGM - and there was minimal documentation of it.
The colleges also recommend that, in areas where affected communities live, schools provide time in the curriculum, and teachers and school nurses have one-to-one conversations with girls.
According to Unicef, female mutilation is particularly prevalent in communities from Somalia, Egypt, Mali and Sudan.
'Abhorrent practice'
Dr Deborah Hodes, a consultant community paediatrician from the Royal College of Paediatrics and Child Health, said: "FGM has been illegal in the UK for more than 25 years.
"In the UK, there are women who come from countries where FGM is common. Many of their children, despite being born here, are at risk of having this procedure forced upon them.
"It is therefore crucial that all paediatricians have the confidence to talk to parents about the issue and the ability to recognise the signs and respond appropriately when the child is at risk."
Efua Dorkenoo, an expert on FGM and a member of the human rights group Equality Now, said: "The UK is well on its way to developing a joined-up response to FGM.
"However, we need to redouble our efforts to ensure that the right systems are institutionalised, that the correct data is gathered and shared, and that every frontline professional knows what action they need to take."
Public Health Minister Jane Ellison said: "Female genital mutilation is illegal and we have to both safeguard girls from this form of child abuse and address the longer-term health needs of those girls and women living with FGM.
"We are already working actively with the Health and Social Care Information Centre to look at how best the NHS could collect and share data and I am working hard, with colleagues across government, to protect future generations of girls from this abhorrent practice."