Paul McDade jailed over guns and ammunition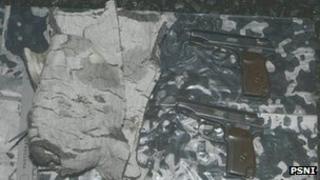 A Belfast man has been jailed for 18 months for having guns and ammunition.
Paul McDade, from Sheridan Street in the city, was arrested in September when police stopped his car on the A1 near Hillsborough, County Down.
Officers found two 9mm semi-automatic handguns and two magazines containing 14 bullets. They had been hidden in a spare wheel in the boot of the vehicle.
Belfast Crown Court heard McDade had told police that he was transporting the guns to pay off a drug debt.
The 53 year old pleaded guilty to having firearms and ammunition under suspicious circumstances and possession of an offensive weapon.
'In trouble'
A prosecution barrister told the court a search of McDade's phone revealed a text message under the name of 'Mate' which talked of the accused being given "the wrong one by mistake".
The message said the sender needed it back or "he would be in trouble".
McDade told police in a written statement during interview that he did not know what was in the spare tyre.
He told officers he had only collected the tyre from a car park to pay off a drug debt as he was addicted to cannabis.
The court also heard that there was no forensic or DNA evidence to suggest he had handled the guns or ammunition.
The prosecution barrister revealed that McDade already had a criminal record, including a conviction in 1979 for a similar offence of possession of a firearm in suspicious circumstances.
'Prepared statement'
The defence team said pressure was applied to their client to become a "stooge" or a "mule".
They said he was under duress to collect the weapons and ammunition to pay off his drug debts.
"He accepts he was transporting firearms and ammunition which could be used. He was in fact a courier for others," a defence lawyer said.
However, the judge said: "I don't believe this is a drugs case as no drugs were found in the car.
"He had a prepared statement which meant that he could not be questioned by police.
"Transporting two re-commissioned guns with a total of 14 rounds of ammunition is a serious offence.
"He knew that he was transporting these firearms and I don't think he was doing it under duress."
'Makarov pistols'
She told him that he would serve 18 months of a four year sentence in custody with the remaining further two-and-a-half years to be spent on licence following his release.
The Belfast Crown Court judge also ordered the forfeiture of the BMW car he was driving when the weapons were found and she recommended the proceeds of the sale go to Addiction NI.
Speaking after the sentencing on Friday, a spokesman for the PSNI's Serious Crime Branch said: "We are pleased to have taken two guns and ammunition off the streets of Northern Ireland.
"We believe these reactivated Makarov pistols originated in eastern Europe. As a result of our investigation, everyone in our community is safer today."