Boys closing gap on girls for life expectancy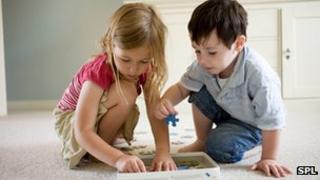 Boys are narrowing the gap on girls when it comes to life expectancy in England and Wales, statistics show.
The Office for National Statistics says baby girls born 30 years ago were expected to live six years longer than boys - and now it is less than four.
The latest figures show boys born between 2010 and 2012 can expect to live for 79 years and girls for 82.8 years.
Life expectancy has continued to rise for men and women since the 1980s.
In 1980-82, men's life expectancy was 71 and women's was 77 years old.
Women continue to live longer than men, but the gap in life expectancy has been closing.
Although both sexes have shown annual improvements in life expectancy at birth, over the past 30 years the gap has narrowed because larger numbers of people are surviving to an older age. This is contributing to the ageing population of England and Wales.
Older groups
The ONS also looked at how life expectancy has changed at the age of 65 in England and Wales.
It found that men can expect to live for another 18.3 years, up from 13 years in 1980-82.
Women aged 65 can expect to live for another 20.9 years, an increase of 3.9 years since 1980-82.
The difference between male and female life expectancy at age 65 has decreased over the last 30 years from four to 2.6 years in 2010-12.
The report said male life expectancy at age 65 was now the same as female life expectancy in 1994-96 at age 65.
At 85 years old, a man in England and Wales had a life expectancy of 5.8 years in 2010-12, the stats showed.
For women at 85 in 2010-12 life expectancy was slightly higher at 6.8 years.
The ONS compared life expectancies in England to those in Wales and found that those in England were consistently, although marginally, higher than those in Wales at birth, age 65 and 85.