Doctors told 'don't blame' obese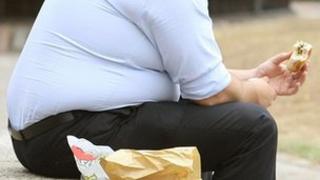 Doctors treating obese or overweight patients should be "respectful" and "non-blaming", advice to the NHS says.
The draft guidance is published by the National Institute for Health and Care Excellence (NICE).
It also suggests obese patients be referred to weight-loss programmes, including those run by commercial companies, to help them lose weight.
Obesity increases the risk of heart disease and type 2 diabetes and costs the NHS more than £5bn each year.
Just over a quarter of adults in England are classed as obese and a further 41% of men and 33% of women as overweight.
'Meet the needs'
The NICE document, which is subject to a three-month consultation, suggests all health professionals dealing with overweight or obese people should monitor their tone in order to "minimise harm".
It states all healthcare professionals should "be aware of the effort needed to lose weight and avoid further weight gain and the stigma adults who are overweight or obese may feel or experience".
It adds: "Ensure the tone and content of all communications or dialogue is respectful and non-blaming.
"The terminology used to describe the person's condition should respect individual preferences."
NHS care providers should also ensure equipment and facilities "meet the needs of most adults who are overweight or obese".
Those overseeing NHS weight management programmes should tell patients how much weight they can "realistically" expect to lose, and that no programme is a "magic bullet", the document says.
Instead, stress should be put on the "importance of making gradual, long-term changes to their eating habits and physical activity and how much weight they might realistically expect to lose in total and on a weekly basis if they adhere to the programme".
Prof Mike Kelly, director of the Centre for Public Health at NICE, said: "Being overweight or obese can have serious consequences for an individual's health, not only physically with increased risk of high blood pressure and type 2 diabetes, but it can also affect their mental health as a result of stigma and bullying or discrimination."
'Consequences'
He added: "This draft guidance isn't about quick fixes, it is about ensuring lifestyle weight management services support people in the long-term.
"Programmes that address diet, activity and behaviour change can help people who are obese lose weight, but they are only cost-effective if the weight is kept off."
Tam Fry, a spokesman for the National Obesity Forum, said most health professionals were not trained in how to raise weight issues effectively.
"The abrupt style that many have taken so far has only made matters worse," he said.
"NICE is correct to say they should be moderate in their tone. But once they've got the tone right and the confidence of the patient, they should really think about tough love.
"It's essential that patients realise that the consequences of putting on weight are very serious."
Thembi Nkala, senior cardiac nurse at the British Heart Foundation, said: "Being overweight or obese can have serious consequences for your heart health.
"However, taking control of your weight can be a daunting task because changing the habits of a lifetime is often a challenge.
"That's why it's a good idea to get support throughout your weight loss journey, which could include joining a support group."