Blood test 'detects sepsis in hours'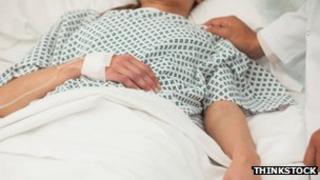 A rapid blood test to diagnose blood poisoning, or sepsis, at the hospital bedside could potentially save thousands of lives, say researchers.
Early studies at King's College London suggest the condition can be diagnosed in two hours using a simple blood test.
Current diagnostic methods take up to two days, which may delay treatment with life-saving antibiotics.
The condition - caused when the body's immune system overreacts to infection - causes 37,000 UK deaths each year.
In the study, published in the journal PLOS ONE, researchers identified a biomarker for diagnosing sepsis rapidly in blood samples.
It is based on detecting nucleotides specific to sepsis to rule out similar conditions that can mimic its symptoms.
A small study at a London hospital and a larger study in Sweden demonstrated that sepsis could be diagnosed within two hours, with an accuracy of 86%.
Lead researcher Prof Graham Lord, director of the NIHR biomedical research centre at Guy's and St Thomas' NHS Foundation Trust and King's College London, told BBC News: "If our early phase result holds up in a large trial, it could have significant effects in saving thousands of lives and reducing the use of unnecessary antibiotics.
"If we can prove its value in prospective trials, we can quite rapidly translate it into NHS clinical care."
He said more research was needed to be done, but if successful, the test could be available for use in the NHS in about two years.
UK Sepsis Trust chairman Dr Ron Daniels said the work paved the way for earlier detection of sepsis.
"If we had a simple test that would reliably detect sepsis - particularly in vulnerable groups - it would significantly improve the reliability of the delivery of care," he said.
He added: "We still need the suspicion of sepsis to be present for someone to give the test."
In September, a report from the health service ombudsman found significant failings in treatment of sepsis and said more had to be done to save the lives of patients.
The National Institute for Health and Care Excellence will produce guidance for GPs and clinicians to help them recognise sepsis at an early stage.