Life under the flight path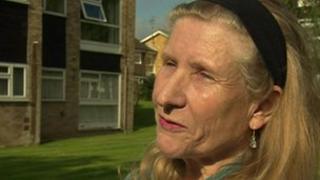 Margaret Thorburn, 59, lives in Isleworth, an area of London that sits about six miles directly east of Heathrow.
She's lived in the area for 30 years and suffers from high blood pressure.
Planes fly over her flat every 90 seconds, from four in the morning until about three in the afternoon.
The flight path changes after that, giving her some respite from aircraft noise until the next dawn.
"I've got used to it to some extent," she says.
"But it's still very annoying, and so it's upsetting when you can't have a conversation at a normal level - you have to raise your voice and shout over the top of these aircraft."
Margaret cannot say what causes her high blood pressure, but says she is not surprised by the findings of the BMJ study that links plane noise with heart disease.
She says the stress of waiting and anticipating the next plane is an unpleasant feeling to constantly have to deal with.
She says it's not healthy to live with but you have to deal with it.
"It's very difficult to say what single factor affects anybody's health, but I have raised blood pressure, I have to take tablets for it," she says.
"I have underlying health problems - I will never know how much that was brought on by where I live."
Margaret is taking action to try to ban night flights to Heathrow by joining a campaign group called the Heathrow Action for the Control of Aircraft Noise ClearSkies.
She concedes that efforts have been made to reduce aircraft noise, but says as the number of flights has dramatically increased this has not helped.