Concern over home care worker 'poor' conditions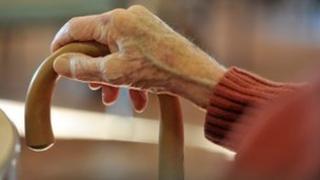 Poor conditions for home care workers mean elderly and disabled people are "vulnerable to neglectful or abusive treatment", a report has warned.
Staff face poor pay, high pressure and a lack of support, the Equality and Human Rights Commission (EHRC) said.
The EHRC called on local councils to change the way care was commissioned.
The Local Government Association said authorities were working to improve a system that is "widely recognised as being significantly underfunded".
'Human rights'
In particular, the EHRC insisted local authorities must ensure workers were paid the minimum wage. Staff are often recruited through external agencies.
The EHRC pointed out that wages could in effect be reduced by not taking into account time between visits.
The report said: "We recognise the severe financial pressures local authorities are under, but unless commissioning practices change, the threats to older people's human rights will continue."
Care workers conduct many tasks similar to those of nurses, but do not have the same status, according to the commission.
EHRC commissioner Sarah Veale warned: "The current system of commissioning and funding home care is increasingly unsustainable as the number of people requiring care grows every year.
"Low status, low pay and poor working conditions are leading to high turnover of staff and putting older people's human rights at risk."
Katie Hall, chairwoman of the Local Government Association's community wellbeing board, said: "Helping people maintain their independence and dignity in old age is one of the most important things councils do.
"This report offers constructive feedback on the work local authorities are doing to improve a system that is widely recognised as being significantly underfunded.
"As the report acknowledges, the social care system is under enormous strain with unprecedented cuts to council funding making it increasingly difficult to meet the escalating demand for care which is being caused by our aging population."
'Skilled workforce'
She stressed that local authorities did not contract services at rates costed below the minimum wage.
Heather Wakefield, head of local government at the Unison union, insisted that cuts could never be an excuse for "reckless" commissioning.
Care and Support Minister Norman Lamb said: "We want to create a fairer society where everyone receives better care and to achieve this we need a skilled and fairly rewarded workforce.
"There are too many examples of employers paying people less than the minimum wage by not taking account of travel times, or of councils buying short care visits that leave people waiting to get into or out of bed, to eat and drink or take their medication."
The charity Leonard Cheshire Disability has complained that short care visits to elderly and disabled people are "disgraceful" and on the rise.
It said 60% of councils in England used 15-minute visits which it claimed were not long enough to provide adequate care.
The government responded by saying the Care Bill would prevent "inappropriate" short visits but would not ban 15-minute visits.