Cosmetic surgery study centre opens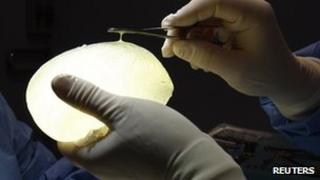 A new centre for cosmetic surgery research, partly funded by the industry, is being set up in the UK.
The National Institute for Aesthetic Research is a response to the scandal over PIP breast implants in 2010.
But women affected by the faulty devices say it has taken too long to establish the facility.
The launch follows a review of plastic surgery by the NHS Medical Director Sir Bruce Keogh, who criticised the absence of data surrounding operations.
The centre is being set up by the British Association of Aesthetic Plastic Surgeons (BAAPS) and the charity The Healing Foundation.
Kate Ward from Leeds had breast enlargement surgery with PIP implants in 2004.
She paid £9,000 to have the implants removed and replaced with new ones.
Ms Ward told BBC Radio 4's You and Yours: "The cynic in me just sees this as very reactive. The management of the people still affected by this scandal remains very inconsistent and in some cases non-existent."
She believes the three years it has taken to establish the centre suggests the women affected have not been a priority, adding: "It's difficult to not feel as though you are stigmatised as someone who has elected to have this surgery in the first place.
"But it is good that lessons are being learnt and changes are being made. I hope by setting up this institute it will stop women being placed in the situation thousands are in at the moment."
'Major contribution'
Rajiv Grover, president of the BAAPS, agreed it was embarrassing that this was the world's first institute related to aesthetic research.
He said: "We have been campaigning for this institute for 10 years but there is now a willingness to endorse this."
Sir Bruce Keogh, NHS medical director, believes it will make a difference.
He said: "This joint initiative is the first recommendation of my review to be implemented and I know it will provide a major contribution to patient safety."
The institute will be partly funded by manufacturers who are being asked to donate a pound from the sale of every breast implant.
So far two have signed up, Nagor (the UK's only manufacturer of implants), and Eurosurgical, distributors for Silimed based in South Africa.
BAAPS says this will raise a minimum of £25,00 to £30,000 a year. Women affected by PIP implants say all the manufacturers should sign up to the institute.