Has the message about first aid skills been learned?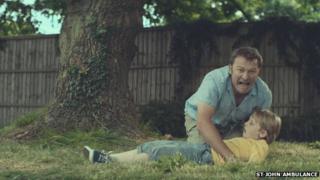 A child falls out of a tree with a sickening thud while his father is preoccupied on his mobile phone.
In a kitchen, a woman trained in emergency first aid rushes outside to help, but instead of coming to their aid she gathers in washing from the rain. She is not the boy's mother but she would have known what to do.
The father is left kneeling by his unconscious son, blood trickling from his lips, screaming for help.
The advert, from St John Ambulance, which has been running on television channels in recent weeks is powerful, the message hard-hitting. What parent would not want to know how to save the boy?
Yet the first aid charity says that more than half of parents (55%) lack the skills necessary to save their child in the event of a life-threatening accident. It was their reason for commissioning the advert in the first place.
More worryingly perhaps, the charity says that although most parents claim to know basic first aid, many say they would not touch or move the boy until an ambulance arrived - which would be the wrong thing to do.
It says the correct procedure to save the boy is to follow the important first steps of first aid by checking for injuries and bleeding, opening his airway and checking his breathing. The charity also explains in their video how to put the boy in the recovery position and it says to call 999.
So Sue Killen, chief executive of St John Ambulance, is understandably happy that the response to the advertising campaign has been positive.
She says: "We know some people were a little shocked by the advert but as one Twitter user said: 'I'd rather be scared by an ad than scared because I couldn't save someone'.
"We're really pleased with the way people have responded and that tens of thousands more people can be the difference between life and death."
But not everyone is convinced that the tone of the advert was correct.
Emma Hammett, who is a first aid trainer with her own company, First Aid for Life, said the advert had "quite a scary message" which left her feeling horrible.
"A lot of people missed the point that the woman in the advert wasn't the mum [of the boy].
"The way the advert was presented, it's not an easy thing to share. Mumsnet still isn't talking about it."
She says happier stories are easier to talk about, particularly if they have a feelgood factor.
But figures from St John Ambulance show that people are responding to the advert. More than 100,000 people have logged on to the charity's website to find out how to 'Save the boy' in the advert.
Thousands of new followers of St John Ambulance on Facebook and Twitter suggest that the message has reached a wider audience.
And a 62% rise in bookings on St John Ambulance first aid courses since the campaign aired shows that people are actually prepared to learn some new skills.
So perhaps the shock tactics in the ad worked? Emma Sheppard, acting director of brand, communications and fundraising at St John Ambulance, thinks so.
"We don't want to be shocking for the sake of it but we've found that people have an apathy towards first aid and a powerful message is proven to get people to take action.
"Many people think someone who knows what to do is going to be there.
"Unfortunately, that's not always going to be the case and that's the point we try and get across in the advert."
The thinking behind the ad, she says, is to put people in the characters' shoes and make them confront the idea that no-one could be around to help them in an emergency.
Other organisations have used different tactics to get across an important message.
In 2012, for instance, the British Heart Foundation used former footballer Vinnie Jones to front a campaign to educate people about hands-only cardiopulmonary resuscitation (CPR), as opposed to mouth-to-mouth resuscitation which they felt was preventing bystanders from giving vital CPR in a medical emergency.
The well-known face of a player with a hardman reputation showing people how to save lives made people laugh - and log on to learn more.
The BHF says the advert has now been viewed nearly four million times on YouTube and the training film has clocked up three million views alone.
It also says that at least 41 lives that have been saved as a result of the advert and one of those survivors featured in the second TV ad.
From the evidence, it appears that both approaches to getting across an important public health message on TV work.
In the end, Sue Killen of St John Ambulance says, there is no excuse for not knowing exactly how to save someone's life.
"It's devastating to find that over half of parents wouldn't have the first aid confidence to save their own child's life.
"And it's not just parents. Over 40% of people admit that it would take something as severe as the death of a loved one to make them learn first aid."