CQC official Anna Jefferson cleared over 'cover-up'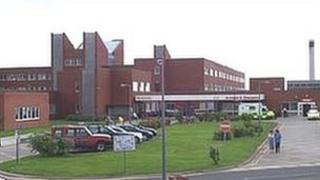 One of the officials at England's health regulator accused of a cover-up has been cleared of wrong-doing in an internal inquiry.
The Care Quality Commission said media manager Anna Jefferson had not supported an alleged decision to delete a critical report.
It had been suggested the CQC tried to conceal failings in its investigation at Furness General hospital in Cumbria.
Ms-Jefferson said she was "relieved that her name has now been cleared".
She added that it had been "an extremely difficult time".
Baby deaths
The spotlight fell on the CQC when it published a review in June by consultants Grant Thornton which looked at how the organisation had investigated Furness General Hospital in Cumbria.
This review had been ordered by the CQC's new chief executive, David Behan, after he took over the regulator in 2012.
The CQC had given Morecambe Bay NHS Trust, which runs the hospital, a clean bill of health in 2010 despite problems emerging in relation to its maternity unit - since then more than 30 families have taken legal action against the hospital in relation to baby and maternal deaths and injuries from 2008.
In 2011 - with more concerns arising - the CQC ordered an internal review into how those problems had been missed.
But when this report was finished, officials decided not to make the findings public and the author was allegedly been told to "delete" it, the Grant Thornton review said.
The officials alleged to have been involved in this decision were initially not named by the CQC.
No disciplinary action
The organisation came under immediate pressure from ministers and the information commissioner, who accused them of hiding behind the Data Protection Act.
Within a day the identities of the three - former chief executive Cynthia Bower, her deputy Jill Finney and media manager Anna Jefferson - had been revealed.
All three strongly disputed the allegations made against them.
Ms Jefferson is the only one of the three to still work for the CQC - she is now its head of media - and therefore the only one subject to an internal investigation.
The CQC says no disciplinary action will be taken.
In a statement, it added Anna Jefferson had "not used 'any inappropriate phrases' as attributed to her by one witness quoted in the Grant Thornton report" and "had not supported any instruction to delete an internal report prepared by a colleague."
It added: "The CQC regrets any distress Anna Jefferson has suffered as a consequence of this matter and is pleased to welcome Anna back to the organisation following a period of maternity leave."
The independent report had suggested that Ms Jefferson had said of the critical internal review: "Are you kidding me? This can never be in the public domain."
A spokesman for Grant Thornton said it fully supported and stood by its findings.