NI is UK regions' counterfeit capital, says report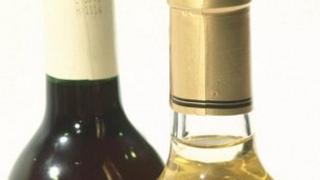 Northern Ireland is the regional counterfeit capital of the United Kingdom, a report has suggested.
People in Northern Ireland admitted buying more fake clothing and accessories, films, music and alcohol than other regions.
The report by PwC looked at the economic impact of counterfeiting.
More than half of those surveyed in Northern Ireland said they "sometimes" bought fake items - the highest percentage in the UK.
The report, Counterfeit Goods in the UK - Who is buying what, and why?, said adults regularly bought counterfeit alcohol, cigarettes, medicines, films and music, clothes and car parts.
It found that outside London, Northern Ireland was the regional counterfeit capital, whereas Scotland reported significantly fewer fake purchases than the national average.
Mark James, from PwC's anti-counterfeiting team, said counterfeit goods impacted on profit and jobs, yet people increasingly saw it as a normal, consumer choice.
"The digital economy and global supply chains have made tracking counterfeit goods and measuring their economic damage fiendishly complex," he said.
"Companies invest significant amounts of time, money and effort in developing their products, while manufacturers and buyers of counterfeit goods strike right at the heart of that.
"Ultimately, companies are seeing their brand, reputation and revenues stolen."
The European Commission said counterfeiting and piracy could be costing the UK economy £30bn and more than 14,500 UK jobs.
The vast majority of consumers surveyed for the report believed counterfeiting to be morally wrong and while 20% of 18-24 year olds disagreed many said they were able to overcome these scruples.
Nevertheless, demand remains high and HMRC has seized nearly 15m litres of illegally produced alcohol in the past eight years.
Price and affordability are the top drivers for those who consciously choose fake products.
Consumers believe responsibility for stopping the sale of counterfeit goods lies primarily with the police, followed by government then themselves.