Thirty NHS trusts 'set for deficit'
By Adam Brimelow
Health Correspondent, BBC News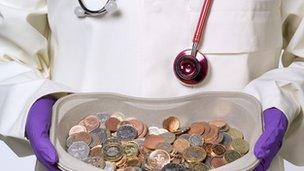 Thirty NHS hospital trusts in England expect to be in deficit by the end of this financial year, it has been revealed.
It said the figures reflected falling income for services and a reduction in bailouts from other parts of the NHS.
The figures do not cover foundation hospital trusts.
The 30 hospitals trusts in question have never won foundation trust status, and the increased autonomy and financial freedom that comes with it.
As a result, they tend to be the ones with more problems.
The figures from the TDA's report indicate financial pressures are growing.
The combined shortfall of the 30 trusts predicting a deficit is expected to be more than £230m.
The authority says in the past a lot of these problems were concealed by bailouts - often from the Department of Health.
But hospitals are bearing the brunt of the drive for efficiency savings in the NHS, even as demand for their services is growing.
Those that can't balance the books face re-organisation, including the possible closure or re-location of services.
The TDA says it will continue to support them to ensure they deliver high quality care.
David Flory, chief executive of the TDA, said: "It is clear that while the majority of trusts we oversee have a healthy financial position, there remain issues with a number of NHS Trusts that have seen their income reduce this year.
"We continue to work with NHS England and commissioners to identify how we might support organisations to address those issues so that they can continue to provide high quality services for their patients."
Shadow health minister Liz Kendall said the government was to blame for the trusts' financial difficulties:
"David Cameron should have spent the last three years laser-focused on ensuring the NHS delivers better patient care while meeting the biggest financial challenge of its life.
"Instead he forced through a damaging and distracting backroom reorganisation, wasting £3bn in the process.
"Patients and taxpayers are now paying a high price for this government's failure on the NHS."
John Appleby from the King's Fund, the health think tank, said the figures were not a surprise.
"The ones in trouble are a minority who everybody has known about for years.
"Efforts to fix the problems have been going on for a long time. They won't be turned around tomorrow."
Related Internet Links
The BBC is not responsible for the content of external sites.