Sponsorship of nurses a "conflict of interest"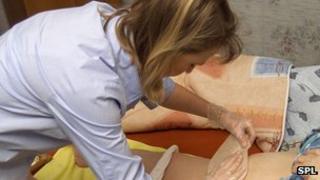 Medical companies sponsor 75% of nurses in one area of NHS care in England, Wales and Northern Ireland.
The nurses care for patients who have had colostomies or ileostomies.
Some in the NHS are concerned nurses may feel obliged to prescribe the products made by their sponsors
NHS England said: "Stoma nurses are bound by a code of professional conduct stating their professional judgment shouldn't be influenced by commercial considerations."
Stoma care refers to the care required by patients who have had colostomies or similar procedures, in which a piece of the large intestine or colon is diverted to an opening in the abdominal wall, known as a stoma.
Medical manufacturing companies are invited by a hospital trust to provide nurses' salaries, travel expenses and national insurance contributions.
Radio 4's You & Yours asked all NHS Hospital Trusts in England and NHS Boards in Wales, Scotland and Northern Ireland how many sponsored nurses they employ.
Of around 600 stoma nurses working in the health service 450 were sponsored.
Scotland abolished the sponsorship of nurses in 2006.
Conflicts of interest?
Stoma patients need a regular supply of colostomy bags, belts, and other products to protect the skin and unlike any other area of care in the NHS, patients can get their products via a supply company owned by the medical manufacturer.
The practice has led to complaints of unnecessary equipment being prescribed.
George from Essex had his stoma operation two years ago. He said: "You can tell the company you don't need an item this month, some companies abide by that but some companies will send it you."
NHS Clinical Commissioning Groups across the country are trying to reduce spending in the area of stoma care.
Andrew White, head of medicine management at Greater Manchester's Commissioning Support Unit, said: "While prescription costs for overall prescriptions are down 5% (in the last three years) in the area of Stoma Care it's growing 21%."
Jonathan Evans, Conservative MP for Cardiff North said: "It's clear that if you have someone that is a health professional and they advise you about your care and that person is paid for by the manufacturer of a product, big issues around conflicts of interest arise."
Judy Hanley, chair of the Association of Stoma Nurses UK said: "If it wasn't for the sponsorship with the trust I don't believe we would have the number of Stoma care nurses."
The British Healthcare Trade Association represents the manufacturers of stoma products. They said: "There is no consensus within industry about how commercial sponsorship should work."