'Chemotherapy-sparing' test offered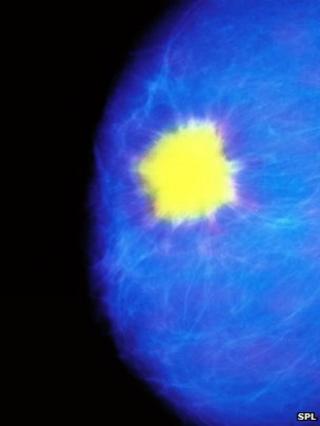 A breast cancer test that could spare thousands of women the ordeal of chemotherapy has been approved for use in the NHS in England and Wales.
The test works out the odds of a some tumours spreading round the body and can be used to decide whether the gruelling course of drugs is necessary.
The National Institute for Health and Care Excellence approved the test, saying it was a significant step forward for patients.
Cancer charities welcomed the decision.
Breast cancer is the most common cancer in the UK, affecting 48,000 women each year. About 9,700 would be suitable for the test.
Chemotherapy can be used after surgery to reduce the chance of breast cancer spreading or coming back.
However, the drugs kill both cancerous and healthy tissue, which can lead to side-effects including fatigue, feeling sick, hair loss, change in appetite and hot flushes.
The Oncotype DX test, which looks at characteristics of the cancerous cells to see how likely they are to spread, should help doctors decide more accurately which patients will need chemotherapy.
Prof Carole Longson, from NICE, said testing some patients would be cost effective.
She said: "Breast cancer patients face significant emotional and psychological strain when considering chemotherapy.
"A test that can help to predict better the risk of the breast cancer spreading, and therefore the potential likely benefit of additional chemotherapy, represents a significant step forward for patients.
'Good decision'
The test will not be used on all women with breast cancer. Those considered at intermediate risk - and with oestrogen receptor positive (ER+), lymph node negative (LN-) and human epidermal growth factor receptor two negative (HER2-) subtypes of early breast cancer - will be tested to see if chemotherapy is necessary.
Sally Greenbrook, a senior policy officer at Breakthrough Breast Cancer, said: "This is a good decision from NICE.
"We know that chemotherapy can have side-effects such as sickness and hair loss and many patients find it to be extremely gruelling, so a test which enables patients to avoid it will be welcomed by many.
"It's important to remember that Oncotype DX is only suitable for certain types of breast cancer, so some patients will still need chemotherapy.
"It's also important to make sure that this test is made available to doctors and that systems are in place to ensure that patients are able to benefit from it."