Calls to give boys anti-cancer jab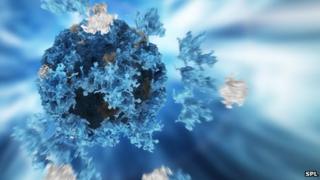 Schoolboys should be given the HPV vaccine to help protect them from some cancers, according to public and sexual health bodies.
Human papillomavirus (HPV) is linked to a range of cancers and a vaccine is already given to girls in the UK to reduce the risk of cervical cancer.
The Faculty of Public Health and the British Association for Sexual Health and HIV said boys should be vaccinated.
The Department of Health said there was no plan to extend the programme.
HPV infections are associated with cancer of the penis, vulva, vagina, anus, mouth and throat. It is spread by sexual contact.
In the UK, girls aged 12-13 are offered the HPV jab. Australia is the only country to routinely offer the vaccination to boys and girls.
Prof John Ashton, the head of the Faculty of Public Health, told the BBC: "It seems oral sex has become a very common part of the repertoire in young people and it does seem a likely part of the story of increases in oral cancer.
"We really need to discuss oral sex as part of sex education in schools and to look closely at extending the vaccine to all men."
'Little benefit'
He said the reduced cancer risk would benefit all men, but the strongest case was in gay men.
Reducing the prevalence of the virus in women would have knock-on effects for some men, but not for those having sex only with other men.
Dr Janet Wilson, the president of the British Association for Sexual Health and HIV, said: "We need to take action to address the lack of protection men who have sex with men receive from the current all-girls HPV vaccination programme.
"It is unfair that they remain unprotected."
However, a Department of Health official said there were "currently no plans to extend HPV vaccination to males, based on an assessment of currently available scientific evidence".
They added: "Vaccination of boys was not recommended by the Joint Committee on Vaccination and Immunisation because once 80% coverage among girls has been achieved, there is little benefit in vaccinating boys to prevent cervical cancer in girls."