Nurses: The engine of the NHS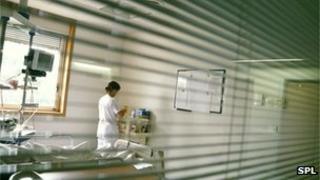 Traditionally the focus, when it comes to NHS staff, has been on doctors. The hours they work, the money they earn and the way they interact with patients.
That has now changed. The rise in the number of elderly patients and increasing prevalence of long-term conditions such as heart disease and diabetes means the focus is more on care rather than cure.
Doctors obviously still play an important part in this, but so do nurses, who after all are the staff who have day-to-day contact with patients.
More than ever, nurses are the engine of the NHS - and that means there is probably greater focus on their performance.
And, as the Stafford Hospital scandal showed, standards sometimes drop below what is acceptable.
The Health Select Committee - in its recent report in response to the public inquiry into the failings - was careful to point out this does not mean care is failing everywhere.
Most patients get good care, but there are still too many cases of poor or - at best - mediocre care, according to the committee.
In response to this challenge much of the debate so far has been around whether nurses are getting the right training or being recruited for the right values.
But in recent months that discussion - as the MPs report shows - has shifted on to whether there are enough nurses being employed to provide good quality care everywhere.
Official workforce statistics from the Health and Social Care Information Centre showed that the number of nurses employed (full-time equivalents) has fallen by about 3,000 since the coalition came to power.
That is only about 1% of the workforce, but at a time when demands are rising many are arguing it is having an impact.
In terms of hospitals, attention has begun to focus on what is the right nurse-to-patient ratio.
'Bare minimum'
For general wards, the consensus is gathering around a one-to-eight ratio during the day on general wards.
This is based on research from King's College London, which shows above that level excess deaths start to rise.
But it is not quite that simple. In a hospital there are many other variables. At night it is widely acknowledged that fewer staff are needed, but a ward with a number of frail or particularly ill patients may need more staff.
And, of course, specialities such as post-surgery recovery or paediatrics need more.
It is why the Royal College of Nursing has urged caution when it comes to setting limits.
It says one in eight should be a "bare minimum" but that senior nurses need the scope to respond to local need.
Howard Catton, head of policy at the Royal College of Nursing, says: "We simply cannot have Whitehall setting what the staffing should be on each ward.
"It will not work. What we need is for it to become mandatory for hospitals to use the best available evidence when it comes to deciding on the numbers of staff they need."