Be open over nurse numbers, hospitals urged by MPs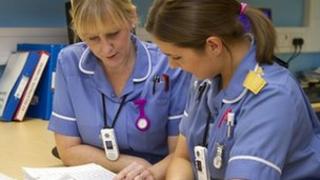 Hospitals in England should publicly display the number of nurses they have on duty on each ward - and whether that figure is high enough, MPs say.
The call by the Health Select Committee comes amid concern about staff levels.
Earlier this year, the Safe Staffing Alliance said wards were regularly breaching the one-to-eight nurse-to-patient ratios that it recommends.
Analysis for the Times newspaper found 43% of wards at a sample 46 hospitals had staffing below this advised level.
The MPs said having a more transparent system would improve care.
The report by the cross-party group - its response to the public inquiry into the Stafford Hospital scandal - also called for a more accessible complaints system for patients and an end to gagging clauses on staff, to help create a "culture of openness".
But it was the issue of being open about staffing levels that has attracted the most interest.
There is much debate about what constitutes appropriate levels - as the MPs acknowledged.
'Greater transparency'
The Safe Staffing Alliance, which includes the Royal College of Nursing, Unison and the Patients Association, has said the one-to-eight ratio should be regarded as a minimum acceptable level - but it was often being ignored.
It is widely accepted that in specialities, such as critical care, there needs to be more staff, while at night fewer are needed.
Evidence presented to the Nursing and Midwifery Council showed that at times the ratio at Stafford Hospital reached one nurse to 16 patients during the day.
Health Select Committee chairman Stephen Dorrell said Stafford Hospital was an extreme case of system failure, but while most patients enjoyed good care there were still too many examples of "poor or mediocre" care.
"It seems entirely true that we will only deliver the right standards of care with the right number of people," he added.
The report highlighted the lead taken by the Salford Royal NHS Foundation Trust, which has started displaying on signs the number of nurses and healthcare assistants they have working on wards and how many they should have. It is updated on a daily basis.
The Health Select Committee recommendation goes further than the government and the public inquiry did on the issue, both of which only said hospitals should use the best available evidence on staffing ratios when it comes to running services.
The Times analysis was based on research conducted by the National Nursing Research Unit at King's College London.
An examination of the 413 wards surveyed suggested many were operating with low numbers of nurses even though similar hospitals elsewhere were able to provide high numbers of staff.
Royal College of Nursing general secretary Peter Carter gave his backing to greater transparency on nurse numbers.
'Powerful points'
"The RCN has called for action to ensure there are safe staffing levels in all healthcare settings, and the committee highlights the importance of this.
"Indeed, there is a growing body of evidence demonstrating how crucial staff-patient ratios are to patient outcomes."
Liz Redfern, deputy chief nursing officer for NHS England, said: "The committee is making some powerful points that all of us in the NHS should listen to."
But shadow health secretary Andy Burnham said greater action was needed as workforce figures showed the numbers of nurses in the NHS was falling.
"David Cameron must intervene and provide a guarantee to patients that all hospitals in England will have enough staff to provide safe care," he added.