E. coli cases would be cut by cow jabs, scientists say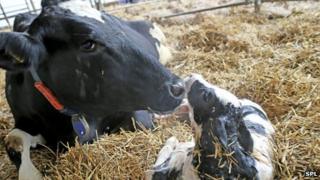 The number of human cases of a dangerous strain of E. coli could be cut by 85% if cattle were vaccinated, say Scottish scientists.
There are often more than 1,000 cases of E. coli O157 across the UK each year.
The infection can cause severe kidney damage and in some instances can be deadly.
The researchers said there would be a big question about who paid for any vaccination campaign.
E. coli O157 is spread through contaminated food, contact with cattle or through animal droppings. However, the cattle themselves are do not feel sick.
In around one in 10 human cases, the toxins released by the bug cause haemolytic-uraemic syndrome (HUS), which damages the kidneys.
Target cows?
There are vaccines available in both Canada and the US but they are not widely used.
Researchers at the Royal Veterinary College, University of Glasgow and University of Edinburgh used computer simulations to predict the impact of vaccinating cattle on human cases of E. coli.
Their study, published in Proceedings of the National Academy of Sciences, showed cases would be cut by 85% - much higher than previous estimates.
Not all cattle spread E. coli equally, some of those infected become "super-shedders". The research group said vaccination would have a large effect on the number of human cases primarily through cutting the number of super-shedders.
One of the scientists involved, Prof Stuart Reid, told the BBC that introducing mass vaccination would be a "hugely complicated issue".
He added: "There are vaccines available but the other aspect of this is it doesn't cause disease in the animals affected, so the big question is, who pays?
"These events happen very rarely, but when things go wrong, it takes only one child with HUS to ask is there more we could do?"
The cost-effectiveness of any vaccination programme has not been assessed, however.
Prof Reid said petting zoos, where children come into close contact with animals, should consider vaccination.
"Petting zoos have been linked epidemiologically to outbreaks so vaccination is a very sensible suggestion it would seem to me."
The National Farmers' Union animal health and welfare adviser Catherine McLaughlin said while they would welcome an E.coli 0157 vaccine, it would have to be commercially justifiable for any manufacturer, and would have to provide a raft of safety and efficacy data to establish marketing approval.
"The current system, whilst not ideal, does provide market access to the vaccine for those farmers and animal keepers who have a justifiable need," she said.