A&E departments understaffed by nearly 10%, BBC survey suggests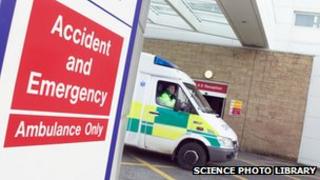 England's accident and emergency departments are understaffed on average by nearly 10%, a survey has suggested.
The 101 out of 166 hospital trusts which responded to a BBC 5 live Freedom of Information request had 1,260 vacant posts.
The picture was worst in London, with the largest proportion of vacancies found in four trusts in the capital.
The Department of Health said A&E staffing was an ongoing problem, but action was being taken.
A&E services came under extreme pressure last winter and the government's four-hour waiting time target was regularly breached.
This was partly as a result of more patients coming through the door, but also because of problems recruiting staff.
Permanent staff 'difficult'
Up to 43% of posts were unfilled in Barking, Havering and Redbridge University Hospitals NHS trust.
It has A&Es on two sites, and indicated in its response that of the 302 staff it thinks it requires, it is short of 12 consultants, 41 doctors and 75 nurses.
The trust's chief executive, Averil Dongworth, said: "We are working hard to recruit more permanent staff to our emergency departments.
"With A&E consultants largely able to pick and choose their employer, this can make it difficult to attract permanent staff."
The next three trusts with the largest proportion of vacant posts were Croydon Health Services, Ealing, and North West London Hospitals - but staffing shortages appear to be a nationwide issue.
Jennie Fecitt, lead nurse of campaign group Patients First, and an A&E nurse for 25 years, said this level of vacancies would have a "significant impact" on the safety and wellbeing of patients.
"A&E nurses are under horrendous pressure. They have got targets and short-staffing to consider. Some hospitals have got it right but they are few and far between," she said.
'In danger'
Separately, a nursing union poll found nine out of 10 nurses working in acute and emergency care believed current pressures on A&E services were putting patients in danger.
The Royal College of Nursing, which has 410,000 members, said its survey had found that 89% of nursing staff thought the people they were meant to be caring for were being put at risk, while 85% said patient safety was being compromised by the strain on the departments.
More than three-quarters (79%) cited increased attendances at A&E as the reason for increased pressure, while 74% blamed inappropriate attendances at A&E where patients could have been treated by primary care services or by calling NHS 111.
5 live Investigates found the average A&E department had 9.7% of its posts vacant as of August 2013.
The majority of empty posts were nursing jobs.
Many trusts use locums, bank and agency staff to fill gaps, but these typically come at a greater cost than permanent employees.
Sixteen of the 101 trusts which responded said they had more consultants, doctors and nurses than they had budgeted for.
Around a third of trusts with A&E units did not respond to the FOI request within 20 working days.
Dr Clifford Mann, president of the College of Emergency Medicine, described A&E staffing as a "crisis".
"The college has received many reports for some time about the problems staffing emergency departments," he said.
"The impact for patient care is that there are fewer doctors to see them, which means that most patients may have to wait longer than we would ideally wish them to wait, in order to be seen.
"There's a delay in making key decisions and that in turn can have an implication for their recovery and wellbeing."
Missed targets
Labour, which has carried out its own analysis of A&E waiting times over the first year of Jeremy Hunt's year as health secretary, says major A&Es have missed waiting time targets in 41 of the 52 weeks.
Shadow health secretary Andy Burnham said cuts to council social care services had led to an increase in elderly patients turning up at to hospitals, and A&E departments had come under pressure because of difficulties with the new 111 telephone advice service and reductions in nursing jobs.
Speaking on BBC Breakfast, he said: "What I'm saying to the government is they must urgently get a grip on the underlying causes of this pressure and particularly ensure that all hospitals in England have enough staff to provide safe care."
Health minister Anna Soubry said the government would be making an announcement on Tuesday on how £500m extra money would be used to help A&E departments.
She said A&E departments did some "outstanding work" and the reasons for staffing problems were "hugely complicated".
Earlier, health minister Dr Dan Poulter said trusts were responsible for their own recruitment policies.
He said: "Recruiting and holding on to doctors in A&E has been a problem for over a decade - A&E is not a popular choice among trainees and in recent years less than 50% of the speciality training places available were taken.
"But earlier this year, the government took action by setting up the first ever independent body with a clear set of priorities to increase the number of A&E doctors and the number of medical students choosing A&E as a career."
He added: "The new chief inspector of hospitals will be able to take action if hospitals are found to be compromising patient care by not having the right number or mix of staff on wards."