Hunt concerned by lack of prosecutions in gender abortion case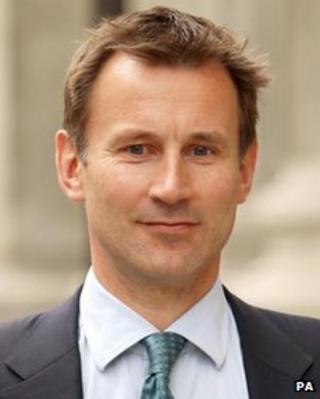 The CPS's decision not to prosecute two doctors who have been accused of offering to arrange abortions based on gender is "concerning", Health Secretary Jeremy Hunt has said.
The CPS has enough evidence to form a "realistic prospect of conviction", the Daily Telegraph reports.
But it decided that prosecutions would not be in the public interest.
Mr Hunt has asked Attorney General Dominic Grieve for "urgent clarification" of the decision.
And Labour Shadow Attorney General Emily Thornberry has written to the Director of Public Prosecutions to request an urgent review of the decision.
The doctors from Birmingham and Manchester were referred to the CPS after the Telegraph carried out an undercover investigation of abortion providers.
The newspaper said it had obtained evidence that they were willing to arrange abortions solely because of the sex of the unborn child, which is illegal.
No terminations were actually carried out during the investigation.
The CPS believes that the cases would be better dealt with by the General Medical Council.
"We are clear that gender selection abortion is against the law and completely unacceptable," Mr Hunt said.
"This is a concerning development and I have written to the Attorney General to ask for urgent clarification on the grounds for this decision. "
This is not the first time Mr Hunt has spoken out about abortion. Last year in an interview with The Times he said he was in favour of reducing the abortion time-limit from 24 weeks to 12. However, he stressed this was a personal view rather than government policy.
Speaking about the gender case, The Director of Public Prosecutions, Keir Starmer QC, said: "This was a very difficult and finely balanced decision.
"It was based on the individual facts of the case; it is not a policy decision.
"But in light of concerns raised today, I have decided that it would be sensible to put into the public domain the case specific reasons for not prosecuting in much greater detail.
"Clearly this will involve careful consideration of how much information can be put into the public domain by way of explanation, but my intention is for a fuller statement to made by the CPS in due course.
"In the mean time, I understand that the Health Secretary has written to the Attorney General asking for clarification and I am happy to assist him in any way."
Lord McDonald, a former Director of Public Prosecutions, told the BBC's Today programme he was surprised by the CPS decision.
"It seems to me to be a slightly odd thesis that a professional person can avoid criminal action simply because he or she is subject to statutory regulation."