Skipping breast cancer drugs costs lives, warns charity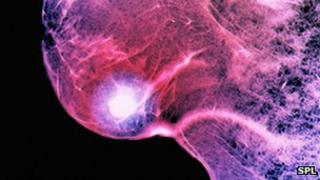 Hundreds of women may be dying from breast cancer in the UK each year as they have stopped taking their medication, a charity is warning.
A five-year course of tamoxifen is lifesaving, but the drug has considerable side effects, including nausea, headaches and exhaustion.
Breast Cancer Campaign estimated that 500 died as the side effects meant they could not finish their prescription.
It wants the NHS to do more to help women stick to their medication.
Tamoxifen is prescribed to women with oestrogen-positive breast cancer, often after surgery or other treatment, as it can reduce the risk of the cancer coming back.
It is a widely used drug and there have even been calls to double the length of treatment to 10 years. The NHS in England, Wales and Scotland has also announced that women with a high family risk of breast cancer should be offered the drug.
Cost to NHS
The charity based its comments on a study of the prescription records of 1,260 women to see how closely they were following their prescription.
The chief executive of Breast Cancer Campaign, Baroness Delyth Morgan, said: "Tamoxifen is one of the most effective treatments for breast cancer when taken as prescribed, but sadly some women find it intolerable to take the full five-year course and risk recurrence of their disease.
"This study is a timely reminder that it's so important that women are given support to continue taking their tamoxifen so that they have the best possible chance to outlive breast cancer."
Dr Colin McCowan, who conducted the research at the University of Glasgow, said: "We do know that side effects of this treatment are an issue and we are currently analysing interviews with women to investigate reasons why they do or don't take their medication and other issues around adherence.
"We hope to use these findings to develop interventions to help women and the NHS to get the most from the lifesaving drugs that we already have."
The charity suggested there was a cost to the NHS as women might need more expensive treatments if their cancer returned. It said up to £30m could be saved each year.
Lesley Smith, from Macmillan Cancer Support, said: "Unfortunately suffering from severe side effects of treatment is not exclusive to breast cancer patients.
"Macmillan estimates that at least half a million cancer survivors in the UK currently face disability and poor health due to their illness and its treatment. This number will rise along with the increase in people being diagnosed with cancer and those who survive it.
"The NHS will simply not be able to cope with the increased demand for services unless we take action now."