Cut crime, boost health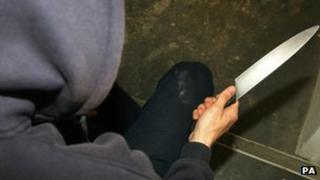 Violent crime has a ripple effect. Not only does it affect the victim and their loved ones, it has a wider impact on communities.
Property prices can go down, local businesses can be harmed and - as new research shows - health suffers.
Researchers from Bristol University, Imperial College Business School and Australia's Monash University found there was a correlation between rises in violent crime and the amount people walked.
Their analysis of data on nearly 900,000 adults in England, showed a doubling in crime led to a 4% drop in walking.
That may not seem a lot, but the impact was the same as a 6C fall in temperature.
What is more, walking is important in terms of overall physical activity levels.
It is one of the most common and easy ways people can stay active.
Nearly half of people in England spend at least 20 minutes walking three times a week.
Another fifth spend at least 20 minutes walking once or twice a week.
Even small changes in walking can have a significant impact.
While much is made of the need for open spaces and leisure facilities or the cost of junk food and alcohol when it comes to encouraging healthy lifestyle, this research shows wider determinants cannot be ignored, according to Prof Carol Propper, one of the lead researchers.
"Violent crime is not everywhere, but we should not forget that crime can have this sort of influence. Policy makers need to think about this and take it into account," she says.
In many respects, this has already started.
Earlier this year local government took responsibility for public health under the reforms to the NHS.
With their responsibility for things such as street lighting and planning and the lead role they place in local partnerships, council can have an influence where NHS bodies cannot.
The new systems are still bedding in - they've not yet been in place six months - but this research demonstrates there is much that they can done beyond the obvious.