Clinicians lead reputation change at Furness General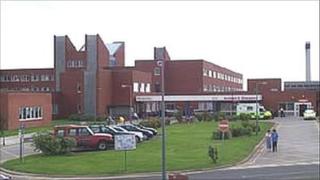 Nestled in his cot on the hospital's maternity ward, one-day-old baby Lorik is sleeping peacefully, blissfully unaware of the problems that face the hospital he was born in.
Over the past few years Furness General Hospital, on the edges of the town of Barrow-in-Furness in south-west Cumbria has found itself at the centre of a series of allegations over poor care and mismanagement.
Now the BBC has been given exclusive access to Furness General to see how the new management team are going about rebuilding faith in the hospital - and restoring its shattered reputation.
The maternity ward where baby Lorik dozes so peacefully was at the centre of some of the worst incidents that tarnished the reputation of Furness General Hospital.
A number of deaths of babies and mothers, including Joshua Titcombe who died in 2008 after an infection was missed by staff at Furness General, sparked a police investigation.
There followed damning reports on the quality of care and the standard of management and the chief executive, chairman and almost the entire Trust board have now left.
Changing the culture
One year into her job, the new chief executive, Jackie Daniel, has been coping with a toxic legacy.
"Yes, it can have an impact on morale," she says.
"But I think it is about connecting our teams at every level.
"I'm only ever as good as the people that work with me right across the organisation.
"It's about keeping connected, it's about keeping really clear about what our plans are."
The key to turning things around has been transforming the entire culture of the hospital.
One example of what that has meant in practice is making doctors, nurses and midwives - not hospital managers - more involved in the running of medical services.
That means people like Sascha Wells, head of midwifery.
"It's incredibly important because clinicians who are working on the front line are the ones who really know what needs to happen to improve the services that are receiving them.
"So it's absolutely imperative that clinicians lead and clinicians are held to account too - so that's exactly what we've achieved."
'Poor care'
But some, like local Labour MP John Woodcock, are concerned the hospital still faces some deep underlying problems.
"Well there's been some really poor care that has to be sorted out in the maternity unit.
"There's been a culture of management cover-up where patients who've complained with problems have been given a terrible time.
"And there's £25 million of cuts that have got to be made across the three hospitals in this trust by this financial year and, as of yet, there's no plan as to how those are made."
The hospital's tarnished reputation is one thing - but it is the experience of patients now that counts.
So what's it been like in the maternity ward at Furness General?
'No problems'
Baby Lorik's mum, Abbey Louise Bujupi, said she did have some concerns when she first came to the hospital.
"As a new mum I was scared, I had a few anxieties, you know, what you hear in the press. But it's a completely different story once you're here."
In the next bed Andrea Niven and her baby Connie-Rose were settled in.
"I hadn't really read anything about it - I tried not too.
"Everyone's been saying stuff about it, but loads of people have been saying how nice they all are.
"My sister was in a couple of years ago and she said she had no problems whatsoever, so I didn't think about it."
The remote industrial town of Barrow, in the far south west of Cumbria, relies on its local hospital - as much as a source of jobs as for healthcare.
The hospital is not out of the woods yet. The police investigation is not yet finished, and a public inquiry into what went wrong at the hospital is due to start next month.
But while everyone agrees there is still a long way to go, even some of its harshest critics believe things are beginning to head in the right direction.