NHS leader criticises 'warring' restructured health service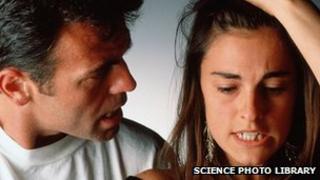 An NHS leader has accused the Department of Health and NHS England of being like "warring parents".
The head of the Foundation Trust Network (FTN) said the two organisations were at a "storming" stage in their relationship.
Chris Hopson described it as a key central relationship in England's newly restructured health service.
Sources close to the health secretary, Jeremy Hunt, dismissed the remarks as "unsubstantiated opinion".
Mr Hopson told me: "There's a joke that relationships start off by forming. Then they go through a storming stage, and once that's finished they norm.
"There's a definite sense at the moment that there's quite a lot of storming going on. One would hope the relationship will develop and norm - because at the moment they're finding their feet.
"Sometimes those of us in the NHS look up and think - this is warring parents who ought to get their act together so we can do what we need to do in the NHS."
The FTN represents a range of hospital, ambulance, community and mental health NHS trusts.
Mr Hopson added: "Tensions are perhaps inevitable where you have political leaders, who want to take accountability for the system, but have set up an arms length body - NHS England - which is responsible for overseeing the key part of commissioning."
He used the example of two documents from the department and NHS England.
"It wasn't immediately apparent how Jeremy Hunt's vulnerable older people's plan sat alongside NHS England's 10 year strategy.
He said: "I think it's becoming clearer - but that for me was a good example of how two things seemed to be in the same space.
"It's important that all of us in the NHS should have a clear picture of how the two fitted together.
"It's a very important relationship and if they're pulling in different directions, it's not helpful. I'm confident they'll find the right answer though."
Sources close to Mr Hunt strongly rejected Mr Hopson's claims, saying: "We don't recognise this unsubstantiated opinion. There hasn't been a sliver between us and NHS England while developing policies like the older people's plan.
"NHS England are operationally independent, as intended, but we work closely together when needed."
The Department of Health says it has a strong working relationship with NHS England.
NHS England is currently working on the arrangements for the parts of the 111 urgent care phoneline in England which have previously been run by NHS Direct.
The announcement earlier this summer of its withdrawal from 111 has raised questions about competitive tendering and fragmentation in England's health service.
Outsourcing gathering pace
Private companies were an important part of Labour's drive to reduce hospital waiting times for planned surgery.
Outsourcing of NHS care is now gathering pace in a range of areas - including diagnostics, mental health and physiotherapy.
Paul Evans runs an anti-market pressure group called the NHS Support Federation, which is tracking new contracts. He revealed new figures to BBC News.
He said: "Over 200 contract opportunities have emerged since April - that's £2.5bn worth of NHS services.
"Of the contract awards that have been made, most have gone to the private sector and only four have gone to the NHS - so there's a significant trend there already."
Market analysts Laing and Buisson believe the trend to a wider range of providers in England's NHS seems unstoppable.
The chief economist at the Nuffield Trust health think-tank, Anita Charlesworth, says this now accounts for a significant chunk of the overall budget.
She told me: "The latest accounts from the Department of Health show that in 2012/13, the NHS as a whole spent £9bn on care by non-NHS providers.
"That's an increase on previous years but it isn't new. This has been building steadily over the last decade."
A Department of Health spokesperson said: "The NHS will stay free for everyone, but it's right that patients should get the best service, regardless of who provides it.
"Charities, social enterprises and independent providers play an important part in providing NHS care - and have done for many years - helping to give patients more choice of where and how they are treated."