Wales tops drug poisoning table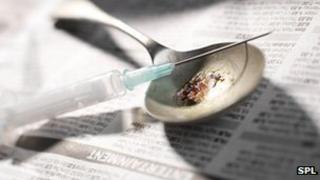 Wales and north-west England had the highest death rates for drug misuse in 2012, according to figures for England and Wales.
Data from the Office for National Statistics (ONS) showed London had the lowest rate.
Overall, there were 2,597 deaths from legal and illegal substances, a slight fall from the previous year.
The substances most likely to be involved in drug poisoning were heroin and morphine.
In Wales, there were 46 deaths due to drug misuse involving illegal drugs per million people. It compares with 41 per million in north-west England, 21 per million in the East Midlands and 17 per million in London.
Drug-related deaths were more common in men, 1,706, than women, 891.
Overall, most deaths were due to accidental poisoning. However, in women nearly half of cases were people taking their own life.
Opiates, such as heroin, accounted for more than half of all deaths from drug poisoning. However, deaths from heroin and morphine are falling.
Meanwhile, deaths from a different opiate, tramadol, have increased again to 175.
It is used to treat pain from cancer and musculoskeletal problems, but deaths are generally associated with drug misuse.
Earlier in 2013, the UK's official drugs advisers - the Advisory Council on the Misuse of Drugs - argued that tramadol should be made a class-C drug, with penalties of up to two years in prison for possession and 14 years for supply.
The ONS report said: "Deaths involving new psychoactive substances, sometimes referred to as legal highs, such as mephedrone have increased sharply in the last year from 29 deaths in 2011 to 52 deaths in 2012."
Figures for Scotland released earlier this year showed deaths were the second-highest on record.
Martin Barnes, the chief executive of DrugScope said: "Despite the overall fall in drug use and the continuing decline in heroin deaths, nevertheless the fact that there have been some significant increases in particular drugs is worrying.
"No drug equals no risk, but back in the early 1990s when ecstasy was at the height of its popularity among young people on the club/rave scene, there was a body of public health knowledge that would have helped protect people and probably saved lives.
"Much of that knowledge, for example, not increasing dosage and not allowing the body to get over-heated is less known to many of the current generation of club and festival goers.
"We need to find ways of reminding young people about this type of information, not only in relation to ecstasy, but also to the many other new drugs now available."