NHS stop-smoking service 'a success'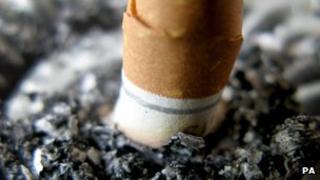 The first decade of NHS stop-smoking services in England has been hailed a success by researchers.
The team said the service was the "jewel in the NHS crown" after it helped nearly 146,000 people to quit between 2001 and 2011.
But the researchers from University College London also pointed out there was plenty of room for improvement.
The number of quitters would have doubled had all the services performed as well as possible, they said.
There was a two-fold difference in the success of different areas.
If all the services had performed to their potential it would have meant more than 300,000 people becoming long-term quitters, which is defined as abstaining for at least a year.
Nonetheless, the researchers said, the service should still be considered one of the best in the NHS in the past decade.
That is because the numbers using the service rose three-fold during the period to nearly 800,000 a year, which is about 8% of all smokers.
And in terms of cost - an estimated £84m a year - versus impact, it is well within the threshold used by the NHS to judge treatments, such as new drugs, the report on the British Medical Journal website said.
The service also seemed to be successful in reaching out to disadvantaged groups as more than half of the smokers taking part in the most recent year got free prescriptions, which are offered to those on low incomes among others.
'Cost-effective'
Prof Robert West, who led the team, said stop-smoking services could be considered the "jewel in the NHS crown".
"It has been a real success. These services are important because the people who are using them are the heaviest smokers who are the least likely to give up.
"But there is plenty of room for improvement. There was a two-fold variation between the best performing services and the worst. We need to address that."
He said one of the key factors of the service, which combines counselling with medication like nicotine replacement therapy, was having staff whose job was dedicated to the service rather than asking practice nurses and pharmacists to fit it in around their day jobs.
Prof West also said he was concerned about the future.
Stop-smoking services became the responsibility of local councils under the shake-up of the NHS earlier this year.
"Money is tight and there is a risk that services will be cut," he added.
Dave Jones, tobacco control delivery adviser at Public Health England, said support would be given to councils with the services.
"There is still more to do but it is great to have this reflection on the bedrock established over the last 10 years."