Sally Davies, England's chief medical officer, 'ate hash cookies'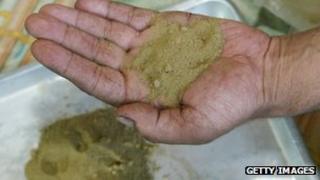 England's chief medical officer, Prof Dame Sally Davies, has admitted eating hash cookies at university.
She also told BBC Radio 3's Private Passions that drug addiction should be treated as a medical and public health issue rather than a criminal one.
Speaking of her university days in the early 1970s, she said: "I never smoked, so I couldn't smoke joints, but I did have some cookies.
"[One time] I had hallucinations and I've never touched it since."
'Imposter syndrome'
Dame Sally, 63, said: "I understood through that what my father said to me when I told him I was going to try it.
"He said, 'Drugs decivilise you, you stop being a civilised person'. And I understood why so many people were against even the soft drugs."
She went on to say: "Addiction is a medical problem, and it becomes a public health problem. And then our society is choosing to treat that as a criminal justice issue."
Dame Sally, recently named in the BBC Radio 4 Woman's Hour Power List as one of the top 10 most powerful women in the country, is the first female chief medical officer, and said she sometimes felt like an imposter.
"The imposter syndrome is particularly prevalent in women, where you wonder whether you can do it. And I clearly can, but there's also the 'how do you do it?'" she said.
Dame Sally also discussed mortality in the programme. She said: "I fear that as a society we have lost the ability to talk about death... We have a cultural problem with death. You talk to people and they haven't seen dead bodies, they shun it."
Die at home
She added that she shocked her colleagues once when, as a young doctor, she put her arms around someone who was dying.
"I've watched people die, and realised how important physical touch is as we depart this world," she said.
Dame Sally also said more people should be able to die at home, and that her second husband spent his final 10 days at home before dying of leukaemia.
During the programme Dame Sally also chose some of her favourite music, by Mozart, Brahms, Wagner, Vaughan Williams and the rock band Queen.
She became interim chief medical officer in 2010.