Did the London Olympics boost the nation's health?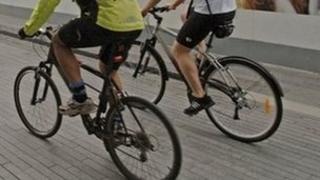 The sporting success enjoyed by the likes of Andy Murray, Mo Farah and Christine Ohuruogu this summer has been a sweet reminder of last year's Olympics.
But while London's bid was based on its ability to run successful Games, the legacy, particularly in raising participation in sport, was important too.
And the latest official statistics released this week make encouraging reading.
More than half the population in England are now doing the recommended level of physical activity - 150 minutes a week.
Comparisons with previous years are complicated because the way exercise levels are measured has changed, but everything points to a gradual increase in the past few years.
Real risk
But dig a little deeper and the figures are not so rosy.
The data, drawn from Sport England's Active People Survey, shows that there are also significant numbers of people doing very little exercise.
In total, almost a third are failing to do 30 minutes a week.
Questions are also raised by other data compiled by the organisation, which suggests participation in organised sport fell by 200,000 to 15.3m in the past year.
Participation in football, cricket, rugby and cycling all decreased, with only tennis and swimming among the nation's most popular pursuits recording a rise.
Some of that can be blamed on the poor weather over the winter, but nonetheless there is a real risk that the health legacy will not materialise without a change in fortunes.
Ministers have attempted to intervene by announcing an extra £5m of funding this week.
Squeezed budgets
The pot is to be split between walking initiatives, Change 4 Life, the government's healthy lifestyles programme, and Street Play, which encourages children and families to reclaim the streets by playing old favourites such as hide-and-seek and hopscotch.
This comes on top of a host of initiatives already announced, including the Schools Games scheme, in which schools compete against each other from local to national level, and a £135m Sport England programme, which is investing in sports facilities and co-ordinators up and down the country.
But this has to be seen against the backdrop of an unprecedented squeeze on the budgets of one of the key providers of leisure facilities - local government.
There are about 150,000 amateur sports clubs in the country - two-thirds of which do not own their own facilities and rely largely on the availability of council-funded services.
James Stibbs, of the Sport and Recreation Alliance, says he is concerned.
'On life support'
"Councils are being asked to make big cuts and there's concern that the worst of these are yet to kick in.
"There is a real risk that any progress we make in terms of persuading more people to be more active will be strangled at birth."
Schools are also struggling, its seems.
Last month the House of Commons Education Select Committee warned that the Olympic legacy on school sport was "on life support".
The MPs said many schools lacked facilities, which limited opportunities for youngsters to get involved.
It may be early days - a legacy is built over many years, even decades - but despite another summer of sporting success the warning signs are there.