Late PCD diagnosis means Kylie needs constant physio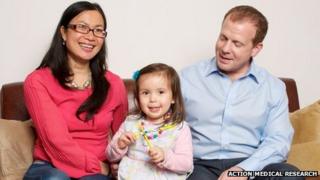 Kylie is a happy and affectionate three-and-a-half-year-old who loves looking after her friends at nursery when they get upset.
Her mother, Nhu, believes this caring aspect of her daughter's character is down to the amount of time she spent in hospital as a baby and toddler.
Kylie has primary ciliary dyskinesia (PCD), a serious and lifelong illness which often leads to permanent lung damage, but she was two years old before she was diagnosed.
Her parents, Nhu and Kevin, noticed soon after her birth that she often had trouble breathing and was producing a lot of phlegm.
After her six-week check-up with the GP, she was referred to a paediatrician the same afternoon but told there was nothing to worry about and sent home.
Over the next 18 months there were repeated trips to A&E with Kylie as she suffered from breathing problems, high temperatures, ear infections and even a bout of pneumonia which saw her kept in isolation for a week.
"We saw so many doctors who assured us that everything was fine... to the point that I was embarrassed to go to A&E," Nhu says.
'Frustrated'
It was a stressful and worrying time for the family. Nhu was working full-time, which made the many hospital visits very disruptive.
"I remember one time taking Kylie to the hospital one evening. We finally left after 3am and I was back to work at 8am, with my mother caring for her at home."
Finally in January 2012, around her second birthday, a CT scan showed that Kylie has a collapsed middle right lung and a build-up of excess mucus in her lower left lung, called bronchiectasis.
But it took another six months before they had a conclusive diagnosis from the specialist lung centre at the Royal Brompton Hospital in London.
Nhu recalls: "Part of me is relieved that we know what it is - but also frustrated by the delay. I look back and kick myself sometimes. If only I had done more.
"I really blamed myself in her first year. Being a first-time mum I thought I had contributed to her condition."
After the diagnosis, Kylie spent two weeks in hospital on very strong intravenous antibiotics. She also received physiotherapy to clear the dangerous mucus from her airways and has been receiving regular daily physio and massage ever since.
The aim is to dislodge as much of the mucus as possible and prevent it collecting in her lungs where bacteria can colonise.
Permanent damage
Scientists at University College London Institute of Child Health are researching the illness in more detail, funded by Action Medical Research, hunting for genetic changes that cause PCD.
It is estimated that one in every 15,000 to 30,000 babies are affected by PCD in the UK - but in some communities it is more prevalent.
In a community of British Asians living in the Bradford area, for example, one in every 2,265 children has the illness.
The symptoms of PCD can start soon after birth and become very serious if not treated quickly.
Dr Hannah Mitchison, senior lecturer in molecular genetics at the Institute of Child Health, says children can face a lifetime of recurrent chest and ear infections.
"They often develop hearing loss and need hearing aids. Some find their lungs become permanently damaged, meaning they eventually need surgery to remove part of their lung. Some even need a lung transplant."
Treating children earlier would ease their symptoms, she says.
"Many have advanced lung damage before anyone realises what's wrong. Better diagnosis and care are needed urgently."
Kylie loves ballet, she goes to nursery most days and takes part in lots of normal children's activities - but she does get quite tired. She is also very patient when it comes to all the physio treatment, her mum says.
"She knows she has some yuck in her chest. She understands that she needs to get it out, that we need to clean her chest.
"Her condition is there for life - and she will have to learn to manage it herself as she gets older."