Andrew Marr's wife hits out at stroke care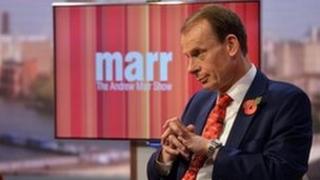 The wife of the BBC journalist Andrew Marr has criticised the level of care available to people who have had a stroke, once they leave hospital.
Jackie Ashley, a Guardian columnist, has written a blog about caring for her husband in which she praises the NHS - but criticises community care.
She said the intensive daily care in hospital was replaced by - at best - weekly appointments.
Campaigners said many survivors felt "abandoned" when they returned home.
About 150,000 people have a stroke in England each year. A quarter of them are of working age.
Marr, 53, spent two months in hospital after suffering a stroke in January this year, followed by months of physiotherapy to help him walk again.
He will return to presenting his Sunday morning politics show in September, and BBC Radio 4's Start the Week programme later this year.
Three months after his stroke, Marr gave an interview to his own programme, in which he said: "I'm frankly lucky to be alive."
He blamed his stroke on overworking and intense periods of exercise.
He said his voice and memory had been unaffected but the left side of his body had been weakened.
'Evidence of cuts'
In her blog, Ms Ashley wrote about how exhausting being a carer could be, and how it could be difficult to plan for when help might be needed.
She said the NHS had been "wonderful, wonderful, wonderful".
But she added: "The inflexibility of the system is staggering.
"I've been contacted by many, many stroke victims and the general view is that hospital care is excellent, but there's very little support after that.
"Daily, intensive physio and occupational therapy in the hospital are suddenly replaced with a visit once a week, if you are lucky, from the community services.
"Given that so many stroke victims, and others who have suffered neurological injuries, would be able to get back to work and look after themselves with better rehabilitation after leaving hospital, this is surely a false economy."
Jon Barrick, chief executive at the Stroke Association, said: "More people than ever are surviving a stroke and that's a welcome improvement.
"But many stroke survivors tell us that after all the effort to save their lives they then feel abandoned when they return home.
"The NHS and local authorities are failing in their responsibilities to provide appropriate and timely support to stroke survivors and their families.
"And the growing evidence of cuts for people currently getting services is very worrying."
A spokeswoman for the Department of Health said: "Carers make a huge contribution to society and we want to do all we can to support them.
"Proposals in the Care Bill will put carers on a similar legal footing as the people they support, with extended rights to an assessment of their needs, and the first ever right to support from their local authority."