Diabetics' access to blood glucose test strips 'restricted'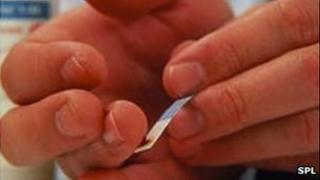 Access to blood glucose test strips vital to help diabetics manage their condition is being restricted against government guidance, a charity says.
Of about 2,200 people who answered a question about the strips as part of a survey for Diabetes UK, 39% had had prescriptions refused or restricted.
It says restrictions are being imposed by local health managers to save money.
But a spokesman representing Clinical Commissioning Groups said the strips had been over-prescribed in the past.
It comes after Health Minister Anna Soubry told MPs the restriction of access to the testing strips was "unacceptable".
Following this, the Department of Health wrote to all GPs in England telling them that prescriptions for the testing strips should be on the basis of clinical need and not restricted.
However, Diabetes UK says its survey found a quarter of those whose prescriptions had been restricted had been told by their GP that this was because of restrictions put in place by their local Clinical Commissioning Group (CCG).
It says there is widespread variation in different parts of the country of guidance on prescribing test strips, with some patients allowed only two testing strips per week.
Long-term complications
This is despite the fact people with type-1 diabetes need to test their blood every time they eat, plus more often if they exercise and every time they drive, the charity says.
A box of 50 test strips retails at about £25, but the cost to the NHS is lower, depending on the deal agreed by each area's CCG - who manage healthcare services and commission care locally - with the manufacturers.
Diabetes UK is calling on health leaders to remove restrictions, so prescriptions can be made according to patients' clinical needs.
It says rationing them could be putting people's lives at risk, as well as storing up long-term costs for the NHS because of the "extremely expensive" cost of treating diabetics who develop complications.
The charity says all people with type-1 diabetes and those with type-2 diabetes who are on glucose-lowering medication, including insulin, need to monitor their blood glucose levels so they can adjust their treatment accordingly.
Failure to do so can lead to short-term complications such as diabetic ketoacidosis, which is caused by untreated consistent high blood glucose levels and is potentially fatal, and hypoglycaemia, which is the result of low blood glucose levels.
'Basic tools'
In the long term, high blood glucose levels can lead to serious complications such as blindness, strokes and the need for amputations.
Diabetes UK chief executive Barbara Young said: "Test strips are the most basic of tools for managing type-1 diabetes and insulin-treated type-2 diabetes so it is very worrying that so many people are telling us they are having their test strips rationed because of cost-saving measures.
"When people with type-1 or insulin-treated type-2 diabetes have their test strips restricted or denied it has a huge impact on their life.
"Our survey showed a lack of test strips was stopping them driving, exercising or knowing how much insulin to take when they are eating or whether they are experiencing a 'hypo' [hypoglycaemic episode], which needs to be treated immediately."
She added: "Rationing test strips to save money does not make any sense, because it is putting people at increased risk of complications that are hugely expensive to treat.
"Diabetes costs the NHS around £10bn annually and 80% of this spend goes on treating complications."
Of those who told the charity they had had their prescription restricted, 58% had type-1 diabetes and 42% had type-2 diabetes.
Dr Steve Kell, co-chair of NHS Clinical Commissioners Leadership Group, which represents CCGs, said: "Prescribing decisions should be made on the basis of clinical need and cost-effectiveness, not cost alone.
"Patients with diabetes should receive a review at least annually to ensure that they are receiving the appropriate treatment and that all prescriptions are suitable."
He added: "There has been significant over-testing and over-prescribing of strips in the past for some patients and this is not beneficial for the patient or the NHS."
Dr Ken Aswani, a GP in Waltham Forest, north-east London. and spokesman for the NHS Alliance, which represents primary care providers, said: "Although some people may feel their strips are being restricted, ultimately, GPs will provide blood glucose testing strips based on need, and where it is appropriate to provide them for the patient.
"So, someone with type-2 diabetes most likely won't require frequent tests as their condition will be controlled in other ways such as through diet, whereas those with type-1 will need the strips much more often, therefore these patients' access to strips will most likely not be restricted."
There are about 3.8 million diabetics in the UK. Diabetes UK says about three million have been diagnosed with either type-1 or type-2, with a further 850,000 thought to have undiagnosed type-2 diabetes.