Friends-and-family patient test failed by 36 wards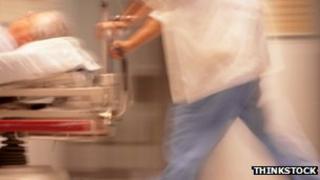 Patients on 36 of 4,500 hospital wards in England would not recommend them to relatives, a new survey suggests.
The latest results of the new "friends and family" test saw one English A&E department out of 144 get a "negative score" - Chase Farm Hospital in London.
Critics say the survey is too blunt an instrument for feedback as response rates at some hospitals are low.
NHS England said the findings contained "home truths" but it was "early data" and should be treated carefully.
The survey, which started in April, looked at patients who stayed in hospital overnight or attended A&E.
The questionnaire, backed by the prime minister, asked the question: "How likely are you to recommend our ward/A&E department to your friends and family if they needed similar care or treatment?"
About 400,000 people overall responded to the friends and family test data survey. Each hospital was given a score based on patient satisfaction levels, ranging from -100 to + 100.
Out of 4,500 wards in England, 36 received an overall negative figure in June, although response rates in some hospitals were very low.
In A&E, one hospital out of 144 received a negative score in the same month (Chase Farm in north London).
The test is seen as central to the government's response to the Mid Staffordshire inquiry.
The survey is projected to cost £150m a year.
Tim Kelsey, NHS England's director of patients and information, said direct patient and citizen feedback was vital to improving services the NHS provides.
"From this first publication, we can see a significant and real variation in the quality of customer services across the NHS," he said.
"There are home truths here and everyone will expect those trusts who have large numbers of their patients choosing not to recommend their services to respond as quickly as possible."
However, he said it was important that this "early data" was treated carefully.
He added: "Low response rates can have a dramatically disproportionate impact on scores. As more and more patients respond, the data will become more and more robust."
Method 'simplistic'
Peter Lynn, professor of survey methodology at the University of Essex, said he was concerned that differences in scores between trusts or between wards may, in some cases, be misleading.
"This can arise because the rather simplistic methodology used to collect the data makes no allowance for differences between trusts or wards in types of patients, types of treatments, or the proportions or types of patients who provide an answer," he said.
"Additionally, variation was allowed between trusts in the way the test was administered. Although the objective is only to shine a light on poorer-performing trusts, the concern is that the light may not be shining in the right places. The methodology of this test really should be improved."
Jocelyn Cornwell, director of the Point of Care Foundation, an independent charity working with health and social care organisations, said: "Collecting feedback is really important, but I think the question patients are asked doesn't make sense.
"Some hospitals were using much better methods of collecting feedback. But they've had to abandon what they were doing and replace it with this rather blunt instrument."
The friends and family test began nationally in April, after a year of pilots in the Midlands and east of England.
There are plans to further expand the test to maternity services in October, and to GP practices, community services and mental health services by the end of 2014, then to all parts of the NHS by the end of March 2015.