Concerns raised over mental health unit deaths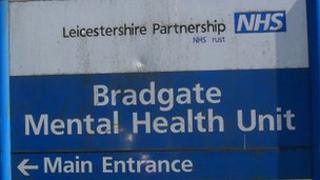 There should be greater transparency over deaths in mental health units, say campaigners, after a series of suicides at a psychiatric hospital in Leicester.
There have been 10 suicides since 2010 at the Bradgate Unit. Inquests have highlighted repeated failings by staff.
Leicestershire Partnership NHS Trust has admitted mistakes but says it is very close to putting matters right.
Charity Inquest wants deaths in mental health units, like police custody and jail, to be independently investigated.
Bradgate has come under increasing criticism from the local coroner over deaths where high-risk patients were either allowed to abscond or killed themselves while in supposedly secure wards.
Following a BBC News investigation, the Care Quality Commission (CQC) has admitted that it has failed to properly inspect some units including Bradgate.
'Immediate risk'
When Glyn Brookes received the news that his daughter Kirsty had hanged herself in a wooded area near a busy road in Leicester, he was shocked.
He had thought that Kirsty, aged 19, was in hospital, receiving specialist care in a locked psychiatric ward.
"She was in a mental health unit which we thought offered security," said Mr Brookes.
Eight months earlier Kirsty had been admitted to Glenfield Hospital's Bradgate Mental Health Unit in Leicester.
Diagnosed with a borderline personality disorder, and with a history of self-harm, her family knew she was vulnerable.
What they didn't know was that there were two suicide attempts in the weeks before her death. For her own safety she was sectioned.
She wasn't allowed out of the hospital grounds, but had previously been able to escape by standing on a nearby gate and climbing over an eight-foot security fence. She was able to use the same route again to evade staff and take her own life - a situation that baffles her father.
"They had identified that she was able to get over the fence. They didn't repair the gate. Their care was not up to any standard you would expect from an institution looking after people who were not able to look after themselves," said Mr Brookes.
At the inquest, Leicestershire's chief coroner Catherine Mason uncovered a catalogue of mistakes. "Despite the known existence of a real and immediate risk to Kirsty's life from self-harm, she had been able to abscond due to not being observed and detained in accordance with her needs and care plan," she concluded.
The inquest also highlighted failures in the initial investigation carried out by Leicestershire Partnership NHS Trust into the care provided by its own hospital.
The coroner noted that some evidence given at the inquest contradicted the Trust's original assessment that staffing levels were adequate.
The Trust's chief operating officer Paul Miller said the hospital had since replaced the fence and provided additional training to staff.
Internal investigations
Across the UK, there are on average 160 in-patient suicides a year. Currently care providers conduct their own internal investigations into the standards of care leading up to such deaths.
Unlike deaths in prison or police custody, fatalities in psychiatric units are not reviewed from the start by a fully independent investigator.
The CQC is informed of all in-patient suicides but has no investigatory powers in individual cases.
The CQC admitted to the BBC's File on 4 programme that its past inspection model had been "flawed", and inspections specifically of the Bradgate Unit had also been "flawed". It told the programme it is now improving the way it carries out inspections.
It now says it accepts that it was wrong to say the hospital was compliant with national standards when in fact it was still not safe.
And it is considering issuing a formal warning to the unit with a legal obligation to make improvements.
The Department of Health has said it is reviewing lessons for patient safety.
Separately, the High Court is considering a judicial review brought this month to consider whether investigations should be carried out by an independent body.
The Department of Health said it is unable to comment on current legal proceedings.
Gap in oversight
But Norman Lamb, care and support minister, said: "NHS England and the Care Quality Commission are reviewing how they can further tighten up the system and ensure that all deaths of mental health in-patients are reviewed and lessons for patient safety are identified."
Deborah Coles, of the charity Inquest, says a failure to carry out independent investigations into the suicides of mental health patients represents a national gap in the oversight of psychiatric health care.
"What we need are fully independent investigations that can uncover any issues of concern to ensure learning takes place, not just at an individual hospital level but at a national level.
"At the moment the system is not working and more people are dying as a result."
Stephen Dorrell MP, chair of the Health Select Committee who is also a Leicestershire MP, agrees that greater scrutiny is required.
"The one thing that undermines public confidence more than anything else is the sense that any part of the NHS is a secret garden where the truth isn't allowed to escape.
"The truth will sometimes be uncomfortable but it's never as uncomfortable as hiding the truth," he said.
Following the death of his daughter, Mr Brookes wants a system to ensure mistakes can't be repeated.
"Kirsty is not with us anymore but her legacy should have been to leave things safer for others. The only way that can be sorted is by a vast change."
Listen to the full report on File on 4 on BBC Radio 4 on Tuesday, 30 July at 20:00 BST and Sunday, 4 August at 17:00 BST. Listen again via the Radio 4 website or the File on 4 download.