Diabetes 'linked to disability risk'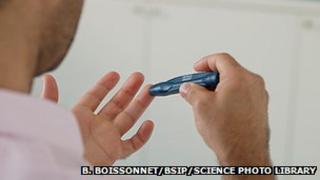 Adults with diabetes have a higher risk of physical disability, research shows.
Older people with diabetes are 50% to 80% more likely to develop a physical disability than those without, according to a review of 26 studies.
No distinction was made between type-1 and type-2 diabetes, but most of the data involved people over the age of 65, who are more likely to have type-2.
Ensuring all people with diabetes have access to the right care is hugely important, said a diabetes charity.
The study, published in the journal the Lancet Diabetes & Endocrinology, reviewed data from thousands of patients around the world.
Disability was defined as impaired mobility and the inability to perform normal activities such as bathing, eating, shopping or using transport.
The Australian researchers say the reasons behind the link are unclear, but high blood sugar levels may lead to muscle damage over time.
"The complications associated with diabetes, such as heart disease, stroke, and kidney disease, can all result in disability," said study leader Dr Anna Peeters and Dr Evelyn Wong, of the Baker IDI Heart and Diabetes Institute in Melbourne.
"As the world's population ages, and diabetes becomes more common, it seems clear that we will see an increased need for disability-related health resources, which health systems around the world need to be prepared for."
Right care
Previous studies have given a confusing picture of the scale of the link between diabetes and disability, with estimates ranging from zero risk to double.
Dr Edward Gregg, of the Centers for Disease Control and Prevention, in Atlanta, US, said the new analysis was the first to quantify the extent of disability diabetes causes.
"We are going to need to think about preventing disability as one of our priorities in managing and dealing with diabetes," he said.
The charity Diabetes UK said the research showed yet again that diabetes complications could result in serious life-limiting disability.
Head of research, Dr Matthew Hobbs, said: "It emphasises why preventing type-2 diabetes and ensuring that all people with diabetes have access to the right care is so hugely important. "
The link may be explained by the fact that complications caused by consistently high blood glucose levels, such as amputation, blindness, heart disease and stroke were, themselves, major causes of disability, he said.
Another possible explanation is that risk factors for type-2 diabetes, such as being overweight, also increase the likelihood of disability.
"Eating a healthy, balanced diet and being more physically active in your daily life can help to reduce your risk of developing type-2 diabetes," said Dr Hobbs.