NHS failings 'suppressed for electoral reasons'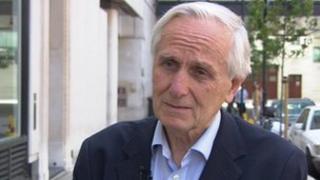 An independent expert on mortality rates has suggested that ministers have suppressed details of NHS failings to avoid losing votes.
Prof Sir Brian Jarman said a "basic problem" was the government both provided and monitored health services.
He says 14 NHS trusts under investigation for high death rates trusts totalled 13,000 more deaths than the national average in 2005-10.
Former Health Secretary Andy Burnham said he tried to flush out problems.
Mr Burnham, now shadow health secretary, was in charge of the NHS between June 2009 and May 2010 and said he left warnings in place at five of the 14 trusts and took particular action at Basildon and Tameside.
A report, which was commissioned by the government in the aftermath of the Stafford Hospital scandal, is expected to set out on Tuesday how the 14 trusts should improve their care.
It was written by the medical director for the NHS in England, Professor Sir Bruce Keogh, with contributions from Sir Brian.
BBC health correspondent Jane Dreaper said the high death rates at Stafford Hospital were explained away at the time, rather than used as an alarm signal which should have triggered further investigation,
'Spin'
Sir Brian told the BBC: "One of the basic problems is that the government is responsible for provision of the health service but also for the monitoring of it.
"The NHS is very popular, and quite rightly so, in the country, and they don't want a bad news story for electoral purposes."
In an interview with Sky News, he said: "When they had a problem with quality, they couldn't really say what it was, so things were suppressed.... spin.
"Effectively they had to deliver good news for the minister. The minister then indicated that the pressure came from Number 10. Although he then denied it."
In response, Mr Burnham said the last Labour government had "established independence" by setting up the independent regulator and that "was not the move of a government that wanted to hide".
He said the Francis Report into care at Mid Staffs had looked at this and "said no minister did anything wrong".
"If there is evidence bring it forward... and I will answer it," he added.
The trusts under review serve a total population of almost six million people.
They are: Basildon and Thurrock in Essex; United Lincolnshire; Blackpool; The Dudley Group, West Midlands; George Eliot, Warwickshire; Northern Lincolnshire and Goole; Tameside, Greater Manchester; Sherwood Forest, Nottinghamshire; Colchester; Medway, Kent; Burton, Staffordshire; North Cumbria; East Lancashire; and Buckinghamshire Healthcare.
The Keogh report is not expected to contain figures projecting what the effects of poor care might have been, our correspondent added, and comparing death rates is a complex undertaking.
But Sir Brian said: "Looking at the 14 trusts, if you say how many deaths would they have had, had they had the national death rate, over the last five years it would have been about 13,000 fewer deaths.
"This means really that we have a number of other hospitals that are similar to Mid Staffs. I would put Mid Staffs in about the top third of those 14.
"We have another group of Mid Staffs hospitals."
This report was the subject of a complaint that was considered resolved by the BBC's Editorial Complaints Unit.