Medicines watchdog recalls drugs made in India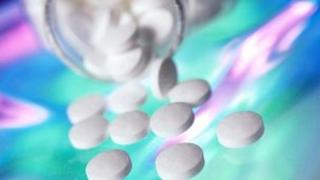 The UK's medicines watchdog is recalling 16 prescription medicines made at an Indian factory which failed a routine inspection.
The Medicines and Healthcare products Regulatory Agency wants pharmacies to return stock of the drugs made by Wockhardt at its Waluj site.
The recalled drugs include some for diabetes, schizophrenia and thyroid conditions.
But the MHRA stresses there is no evidence of a risk to patient safety.
Some of the drugs include Metformin, taken by people with Type 2 diabetes; Atenolol, used to treat high blood pressure and angina; Pramipexole for Parkinson's disease; Risperidone for schizophrenia and Clopidogrel for blood clots.
Erythromycin, an antibiotic given to children which is made at the Waluj site but imported by a separate company, Pinewood Laboratories Ltd, is another of the 16 drugs being recalled.
The MHRA says people do not need to return their medicines and that it is important patients continue to take them as prescribed.
It says there are other versions of most of the recalled drugs made by a range of pharmaceutical companies.
And it said where other versions of the same medicines were not available, there were substitutes which doctors could prescribe,
A statement from the MHRA said it was not recalling the medicines people had at home because, although they had not been manufactured to Good Manufacturing Practice standards, there was no evidence of a patient safety risk from medicines that have been sold in the UK.
However, it said it had to act in the public interest - and poor manufacturing standards could not be allowed to continue.
Import tests
An inspection at the Waluj factory in March found some risk of cross-contamination because of poor cleaning practices, and defects in building fabric and the ventilation systems at the site.
There was also evidence of forged documents relating to staff training records that had been re-written.
The MHRA says it is working with Wockhardt and other international regulators to resolve the issue.
The full range of conditions treated by the 16 medications include infections, high blood pressure, diabetes, epilepsy, depression, schizophrenia, Parkinson's disease, dementia in Alzheimer's patients and thyroid conditions.
Gerald Heddell, the MHRA's director of inspection, enforcement and standards, said: "This is a precautionary recall.
"People can be reassured that there is no evidence that medicines made by Wockhardt are defective so it's important people continue to take their medicines as prescribed.
"All batches of medicines manufactured outside the European Union are tested on importation to the UK before they reach patients.
"However, we have taken this precautionary action because the medicines have not been manufactured to the right regulatory standards.
"We are working with the Department of Health to ensure that people have access to the medicines they need.
"Anyone who has questions should speak to their pharmacist or GP."