MMR catch-up reaches 100,000 pupils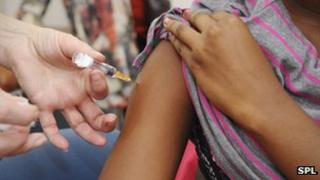 More than 100,000 school age children have been immunised as part of an MMR catch-up campaign, according to Public Health England.
One million children who did not get both of their MMR jabs are being targeted.
There are concerns about high levels of measles after a large outbreak in Wales and record figures in England.
There have been 1,168 cases up to May this year, compared to 712 in the same period in 2012.
Measles is a highly contagious disease characterised by a high fever and a rash. In one in 15 cases it can lead to severe complications such as pneumonia and inflammation of the brain.
Two doses of the MMR jab gives near complete protection against the infection, as well as mumps and rubella.
Children aged between 10 and 16 are the most likely to have missed jabs when, now completely discredited, research linked MMR with autism and caused vaccination rates to plummet.
Missed injections
The most at risk are the 335,000 children in that age group, around 7% of the total, who did not get both MMR jabs.
So far 56,000 have received their first MMR vaccination.
A similar number have been vaccinated in the two other target groups - those aged 10-16 who had only one jab and people in other age groups.
Dr Mary Ramsay, head of immunisation at Public Health England said: "There still remains a large number of 10-16 year olds, together with many younger children and adults who are under-vaccinated.
"If your child has not had the MMR vaccine, the upcoming summer holidays is a good time to contact your GP to get them vaccinated."
Prof David Salisbury, director of immunisation at the Department of Health, said: "The best way to beat measles is to protect people before measles catches them.
"The best thing that parents can do, if their children have not had two doses of MMR, is to make an appointment with the GP now."